By: TheTerminatorFans.com On May 17th, 2018
As reported earlier this week; a casting call made us suspect that scenes could take us to Guatemala in the new Terminator movie's story.
Almería, a city in southeast Spain will host two days of filming for Terminator (2019) in a small coastal setting that will replicate a fishing village (which we presume will be very busy). May 29th the cameras look to be definitely rolling on the third chapter in the original canon Terminator trilogy.
This movie (unlike other instalments has involvement from James Cameron directly as a godfather to the movie, his first official involvement with the franchise since Terminator 2: Judgment Day; so hopes are high that this will be something special among the fans but many still remain unconvinced due the numerous let downs they have endured before and it is fair for those fans to feel that way, even we are sceptical but still hopeful to some degree.
We reported that the location in Almería (which will be used in production) is very idyllic and beautiful, like other potential locations we have researched that will be in the movie. Spain is being used to replicate a Mexico setting and we made guesses (based on a casting call) that if Guatemala was in the movie we could be seeing a journey for the characters spanning a huge distance across Mexico (in a possible race/chase to the border- more guesswork based on location details). With filming reports coming from numerous Spanish sources it looks like the Mexican/U.S. border will feature in the movie which will comprise of two weeks filming in numerous locations in Madrid, one of those locations being Murcia (which will replicate both Mexico and the United States) which has been mentioned in other casting calls where the new movie was not directly named but referred to as an "American superproduction" but matched all the hallmarks of the new Terminator movie (on knowledge so far of watching the project closely).
SolTimes reports:
There has been a lot of movement in Nijar's Isleta de Moro peninsular in the last few weeks, according to local reports.

Workers have been busily trying to complete a series of hut on Del Rinconcillo beach in time for filming.

Security guards are all over the sets and those involved are under strict instructions to keep quiet about the film.

Locals said this is a sure sign something important is underway.

Almost all onlookers are convinced preparations are for the latest edition of the Terminator saga and some are hoping to catch a glance of movie megastar and ex-governor of California, Arnold Schwarzenegger.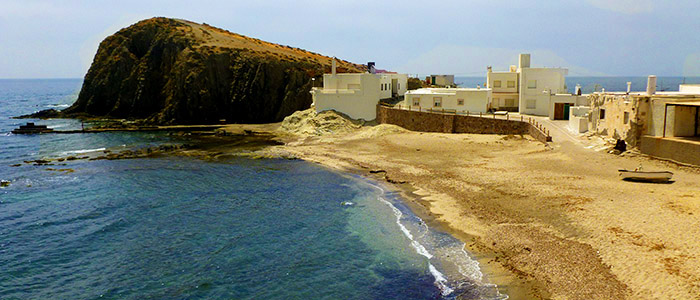 The Isleta del Moro is a provence of Almería and let's face it, it is the polar opposite setting of the grimy, dark and damp downtown Los Angeles in the first Terminator movie, that isn't to say there won't be a bustling city setting in the new movie as the new central human character/protagonist Dani Ramos (Natalia Reyes) comes from Mexico City, so places in Spain or Hungary (even the UK/Ireland) have been mentioned and could go on to replicate that setting; be that exterior or interior sets.
Gathering up all the information on our reports so far… Dani Ramos will interact with at least two other powerful women in the movie, Mackenzie Davis' character and most likely Linda Hamilton's iconic and determined Sarah Connor, at least we still hope she is determined and James Cameron and co. haven't turned her into some reckless and depressed drunk who is a total cringe liability nearly getting everyone killed… now that would suck.
Work is underway to put huts and likely lots of fishing boats across the shore to make this a thriving and busy location, maybe this is a spot for character respite and downtime or possibly some chase/carnage may ensue?
The SolTimes report continues:
Yesterday (Wednesday) a mighty machine was on the beach putting the rooves on the makeshift huts.

They are supposed to imitate those found on the Guatemala coastline, sources said.

And casting managers have employed extras with Latin American origins, including nationals from México, Guatemala, El Salvador, Honduras, Nicaragua and Colombia.

Some of them will have to board boats.

It became clear after potential extras were asked if they suffered from seasickness before being contracted.

Filming will begin on May 29 lasting two days.
It is unknown if the shooting will take place at night or day (or both) but we can't help but get a little excited. This website and the fans on our social networks have made it very clear what our wants, needs and concerns are and now "it is time" to cast those thoughts and feelings aside to remain positive that this is the "Real Terminator 3" fans have been waiting for and that we, the fans, have been listened to FULLY. Let's get ready to sit back and watch this all unfold and at least enjoy the coming months as the possible chance for a new great Terminator movie.
We'll be back!