By: TheTerminatorFans.com On July 26th, 2018
A good Terminator movie conveys a message about our current and possible future world and James Cameron's Terminator movies were the only movies to do it successfully. We have mentioned numerous times that we think the new Terminator movie will have something to say about the current political climate; either directly or indirectly that would involve reflecting thoughts about the now era of Donald Trump.
When it comes to politics you either lean to the left, the right or you simply don't give a shit but politics does affect the lives of everyone,- be that positively or negatively. We feel the new Terminator movie will explore humanity, how we treat either other and the greater good of humans uniting to overcome the tyranny of those menacing machines but this is nothing new to the Terminator franchise because, when the bombs hit, the humans are all on the same side, politics (left and right) do not exist in the future war as there are no governments, society as we know it doesn't exist, racism and discrimination goes out the window and it's just humans Vs machines.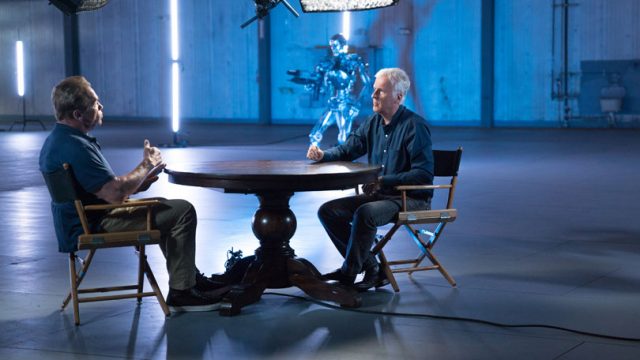 TECHNOLOGY:
Our technology is now more advanced, while Terminator Genisys failed to exploit modern technology to maximum effect James Cameron wants to explore it…
"It's really just stumbled along, trying to find its voice again. There's probably some degree to where it's lost relevance, you know? Maybe the things that made it good back then are kind of a yawn now. It's easy to remember fondly the things that kick off a franchise. It's hard to keep a franchise vigorous, and relevant. I haven't had my hand on the tiller since Terminator 2, and that was 1991. So what's that? Twenty-six years? But look, I think it's possible to tell a great Terminator story now, and it's relevant. We live in a digital age, and Terminator ultimately, if you can slow it down, is about our relationship with our own technology, and how our technology can reflect back to us—and in the movie, literally, in a human form that is a nemesis and a threat. But also in those movies, in the two that I did, it's about how we dehumanize ourselves. In a time when people are being absorbed by their virtual-social world, I mean, just look around. I always say: if Terminator was about the war between the humans and the machines, look around any restaurant or airport lounge and tell me the machines haven't won when every human you see is enslaved to their device. So could you make a relevant Terminator film now? Absolutely."
Anti-Authoritarian Movie
Terminator 2: Judgment Day was anti-authoritarian as hell and we don't see that stopping with the new movie (if the movie isn't too PC). Sarah Connor should be a wanted felon, still and living off the grid, the police, FBI etc are all threats and this is Mexico folks so we could meet brutal cops, cartels and border patrol all working against the characters almost unknowingly siding with a Terminator in destroying the future.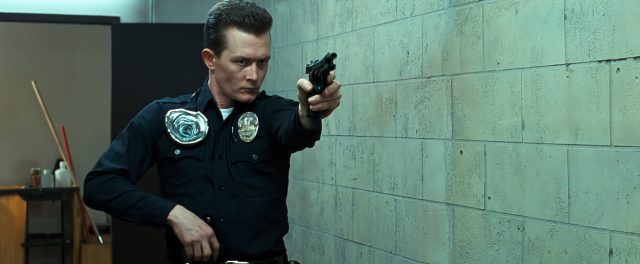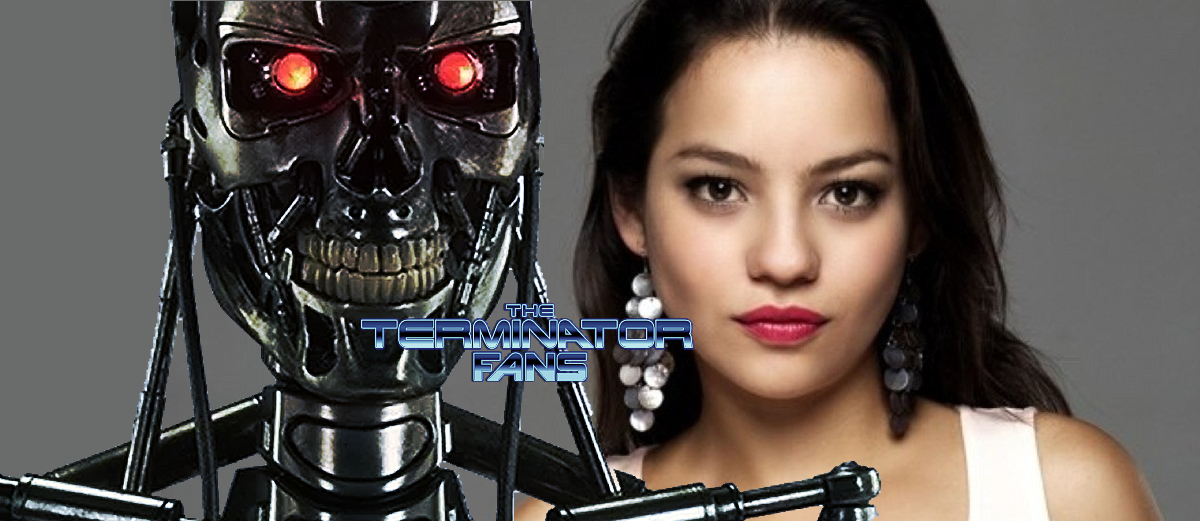 Politics
The new movie will take place in Mexico and as information builds through our reporting we can see a pattern emerging.
Both Arnold Schwarzenegger and James Cameron have taken public stabs at Donald Trump (mainly over denying global warming but we will assume more recent events are annoying them too and we all know Schwarzenegger and Donald have a feud).
Natalia Reyes has signed a 3 movie deal to portray Dani Ramos;- a character that will be stripped away from her family in the events of the movie. She is streetwise but cares about her family, something that she will have to leave behind.
Early shooting location reports included locations in Spain/Hungary that were to emulate the US/Mexican border.
New Set Photos Reveal More
The U.S. department of homeland security will have a presence in the movie in the form of U.S. Customs and Border Protection and border patrol.
Set photo credits: Szokoli Péter
This helicopter is the helicopter seen in the recent set video leak (from Hungary) showing what we believed to be Sarah Connor flying the Helicopter with Mackenzie Davis' character in the passenger seat.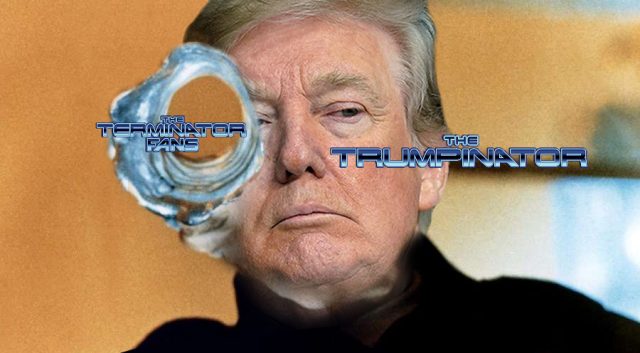 TRUMP'S WALL
Trrump's wall is symbolic to the society we live in now; division and hate separating us and a sheer lack of empathy for one another. These kind of politics are causing conflict and we felt it in our guts a while ago that this movie will convey a social commentary/message on the current state of affairs and for this movie to be relevant it has to do it whether you agree or not.
Berlin Wall
Humans are born to repeat the same mistakes over and over again with each new generation… In terminator 2 audiences and fans watched a machine learn the value of human life but most of us can't even achieve what the T-800 did in the second Terminator movie.
If you don't know what the Berlin Wall was; then take the time to educate yourself. Does this sound remotely familiar to you?
Wikipedia:
The Berlin Wall (German: Berliner Mauer, pronounced [bɛʁˈliːnɐ ˈmaʊ̯ɐ] was a guarded concrete barrier that physically and ideologically divided Berlin from 1961 to 1989. Constructed by the German Democratic Republic (GDR, East Germany), starting on 13 August 1961, the Wall cut off (by land) West Berlin from virtually all of surrounding East Germany and East Berlin until government officials opened it in November 1989. Its demolition officially began on 13 June 1990 and finished in 1992. The barrier included guard towers placed along large concrete walls, accompanied by a wide area (later known as the "death strip") that contained anti-vehicle trenches, "fakir beds" and other defenses. The Eastern Bloc portrayed the Wall as protecting its population from fascist elements conspiring to prevent the "will of the people" in building a socialist state in East Germany.

GDR authorities officially referred to the Berlin Wall as the Anti-Fascist Protection Rampart (German: Antifaschistischer Schutzwall). The West Berlin city government sometimes referred to it as the "Wall of Shame", a term coined by mayor Willy Brandt in reference to the Wall's restriction on freedom of movement. Along with the separate and much longer Inner German border (IGB), which demarcated the border between East and West Germany, it came to symbolize physically the "Iron Curtain" that separated Western Europe and the Eastern Bloc during the Cold War.

Before the Wall's erection, 3.5 million East Germans circumvented Eastern Bloc emigration restrictions and defected from the GDR, many by crossing over the border from East Berlin into West Berlin; from there they could then travel to West Germany and to other Western European countries. Between 1961 and 1989 the Wall prevented almost all such emigration. During this period over 100,000 people attempted to escape and over 5,000 people succeeded in escaping over the Wall, with an estimated death toll ranging from 136 to more than 200 in and around Berlin.

In 1989 a series of revolutions in nearby Eastern Bloc countries—Poland and Hungary in particular—caused a chain reaction in East Germany that ultimately resulted in the demise of the Wall. After several weeks of civil unrest, the East German government announced on 9 November 1989 that all GDR citizens could visit West Germany and West Berlin. Crowds of East Germans crossed and climbed onto the Wall, joined by West Germans on the other side in a celebratory atmosphere. Over the next few weeks, euphoric people and souvenir hunters chipped away parts of the Wall; the governments later used industrial equipment to remove most of what was left. The "fall of the Berlin Wall" paved the way for German reunification, which formally took place on 3 October 1990.
The next Instagram post is Terminator (2019) star Diego Boneta stood at the Brandenburg Gate, one of the only remaining signs that stands as a reminder to the wall, the division/murder and separation of families for decades and here we are in 2018 with nothing learned as if history is disregarded or lost in time, thoughts and hearts but the ideology of today is "if doesn't effect me I don't give a shit".
Regardless of politics or your feelings or leanings; a powerful Terminator movie is going to be needed if it will dabble in such topics and question opinions that could be set in stone. Will people be able to imagine being in the shoes of another human being or will the new Terminator become a political target- getting lost in wars of misogyny, feminism, racism, social justice and the alt right as the pot of controversy boils over… ?
Will Terminator (2019) straddle that delicate line between social commentary and entertainment, which resonates with a far deeper message about the future of humanity long after audiences leave the theater, or just become yet another shallow action fluff piece devoid of soul? This franchise has managed such feats before, the question is… can it do it again or is the world too politically charged to look beyond the us, the here, the now and think about the generations who will inherit our successes and failures after we become mere footnotes in history?
The new Terminator movie might ask you to be on the right side of history but who will you side with… man or machine.