By: TheTerminatorFans.com On July 27th, 2018
Well, the sixth Terminator is doing a very good job of keeping things under wraps but Schwarzenegger has begun filming. Last week we reported on numerous news reports that said Schwarzenegger would begin his shoot sometime this week in Budapest, Hungary and it is now confirmed.
We know that Schwarzenegger is an environmental crusader and cares about our planet and global warming. Arnold still participates in politics and it's one of his primary passions, so he does speeches and likes to commend countries for taking serious action in regard to the environment and saving our planet for future generations.
Schwarzenegger is very impressed with Fiji's initiative and action to take on global warming and protecting the environment. So much so that had he not been filming Terminator (2019) he would have wished to attend the Climate Action Pacific Partnership (CAPP) Conference in Suva where talks are taking place regarding the Pacific Talanoa Dialogue; these dialogues are being set up with Fiji having ambition to implement the Paris Agreement on Climate Change.
Still wanting to pass on his support he sent a video message which goes to show his passion on the subject.
Schwarzenegger's message to Fijian Prime Minister Josaia Voreqe Bainimarama Terminator 6 Announcement (video message transcribed by TheTerminatorFans.com):
Prime Minister Frank Bainimarama, I want to congratulate you for this great event and I'm sorry I cannot be with you but I'm currently shooting 'Terminator 6' and so this is why I'm not there; otherwise I would have been there because this is a terrific event and you have shown terrific leadership. I mean, you're really kicking some serious butt, so we are very, very proud of you. So thank you very much for everything that you do and you're a great leader in the environmental movement. Thank you.
*Prime Minister Josaia Voreqe Bainimarama is more commonly known as Frank Bainimarama
Schwarzenegger and Bainimarama are like-minded advocates on the subject of climate change and surely Schwarzenegger's encouraging words of support will be appreciated by Fiji's Prime Minister and Fiji's citizens who are passionate about saving the planet.
Terminator Beard!
We have been speculating about a bearded Aged Terminator a lot lately and Schwarzenegger still has his beard set to grow mode. While this has been controversial with fans (divided opinions) we are sure he will look great in the movie regardless of style choice.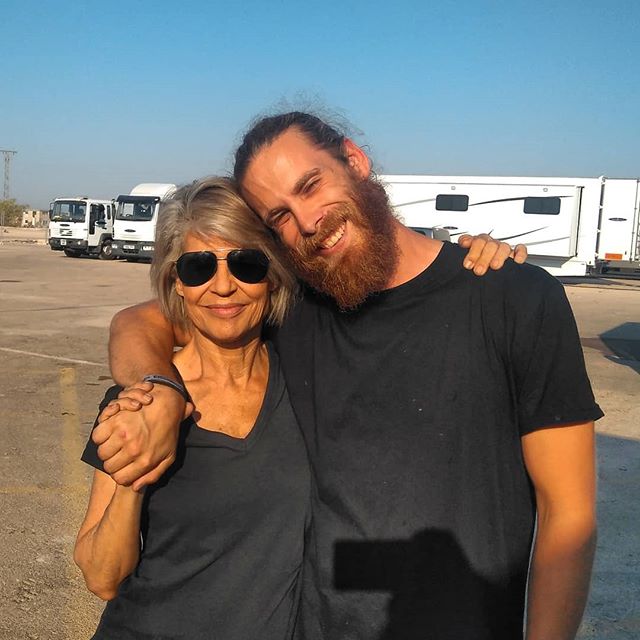 Look how great Linda Hamilton looks as Sarah Connor! Schwarzenegger is in good hands.