By: TheTerminatorFans.com On May 5th, 2018
We know that Arnold Schwarzenegger will play an Aged Terminator Unit in Terminator (2019) AKA Terminator 6, but recently we broke the news that Brett Azar had been offered a role in the new movie. Fans have expressed interest in Brett Azar playing a different CSM Number (Cyberdyne Systems Model- determines the outer flesh identity of a Terminator machine) but we obviously speculated that Brett could be coming back to bring another CGI/de-aged Schwarzenegger T-800 character for the new movie.
We can now confirm that it indeed looks like a young CG assisted body double performance will be part of the new Terminator movie judging by a casting call which has circulated through talent agencies looking for men who have the distinctive look and build of Arnold Schwarzenegger in his prime in the "1980's". Filming of these scenes are also set to take place in "LATE MAY and/or EARLY JUNE" and the location of Santa Clarita is roughly a one hour drive away from Tim Miller's VFX company 'Blur Studio'.
It looks like this casting call came just AFTER Brett Azar was offered a role. Could this be more actors being used as other young Schwarzenegger doubles OR is this simply a group of on-set stand-ins to be used for lighting reference for CG eg. if studios want to create the best de-aged character in cinema history by using similar techniques to Ant Man (Michael Douglas de-aged scenes).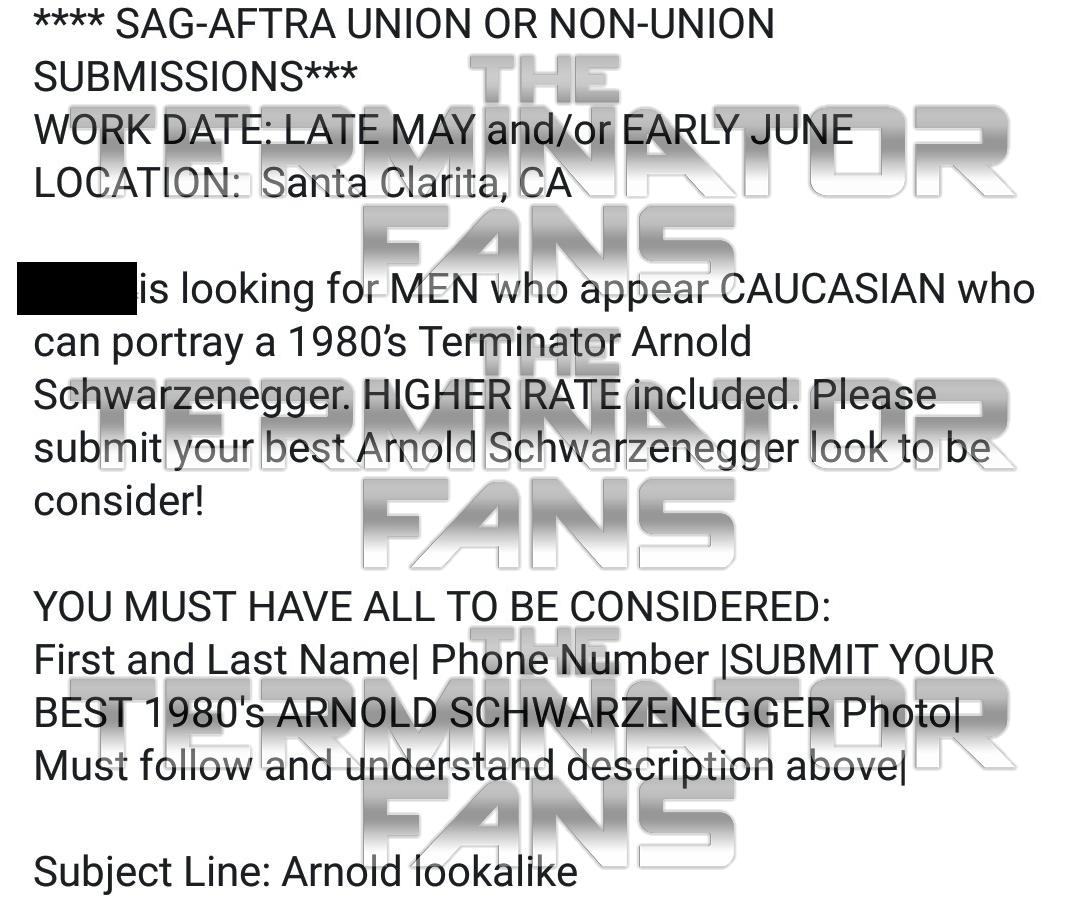 Now let's speculate some more with a few ideas/options about how this could work in the new movie…
A digital sequence like Terminator Genisys featuring another Arnold Vs Arnold battle… would studios really want to do that again?
Showing an earlier point in time of the Aged terminator character's lifespan to flesh the character's story out? (this seems probable).
Showing a human Arnold character and origin for the DNA harvest to create CSM-101? (this also is likely).
Using multiple Schwarzenegger lookalikes to replicate a cold storage/factory environment with racks of Terminator CSM-101 T-800 units?
Showing a human Arnold character unrelated to the future war- a flashback to the man,- not the machine?
It's the only seeming way to have Arnold as a bad Terminator and to throw fans who want a villainous return a bone of appeasement.
Just a merchandizing move- so if the movie isn't that successful they can issue a collectible featuring a 1984 likeness of Arnold that will bring "The Terminator" collectors running; no matter how bad the film is.
Time displacement/time travel scene similar to Genisys but done with James Cameron's original vision?

As we can see if we just think about it- there is a huge potential for the different ways a young Schwarzenegger sequence could be utilized in the new movie but will it be effective and not come across as a gimmick? TheTerminatorFans.com are not fans of CG Schwarzenegger(s) and fail to understand why this has become a common place event which now must take place in every Terminator movie.
Why do we need a CG Arnold when we have the real thing? Arnold is alive! What next a CG Linda Hamilton and a CG Edward Furlong flashback scene?
What the fans really wanted to see is different CSM numbers to re-enforce that SkyNet isn't as stupid as the last 3 Terminator movies and that all T-800's don't look like Schwarzenegger. Fans also wanted a movie not so reliant on CG and when news that Brett Azar was offered a role we were hopeful he perhaps would play a role similar to Franco Columbu in the first Terminator movie (flashforward) and Brett isn't afraid to play bad.
One thing for sure is the budget is ramping up, the movie is co-funded by China like Terminator Genisys was and the CGI is also booming but of course Tim Miller was going to do CGI as he owns a VFX studio and this will be a showcase of his company's work and a great source of extra income for him.
PG-13 looks likely but it doesn't rule out Rated R; if it was Rated R then of course a soft R looks likely and China would probably lose chunks of the film down to strict censorship.
Thanks to Terminator Fan Priyom 'PRIMONATOR' Haider for the casting news tip off.
Priyom writes:
"Arnold is my life motivation hero (link life motivation to this video, not just Hollywood. Reaching the absolute top in completely unrelated different career fields of bodybuilding, acting, politics and business. He's the reason why another immigrant like me from a poor country even found it imaginable to come and make it in America, and make it in Hollywood, to reach the absolute top. Our back stories and personalities / drive / focus to make it to the absolute top are also very similar. I'm also super into fitness, won my first competition, and always maintain my natural built body to a level that separates me from most other actors."
Priyom's dream is to play a Terminator and if there was room in the cold storage/Terminator factory for some different CSM models of different builds and sizes he would love to be considered.
Priyom also shared a picture of meeting Arnold which he stated as being "one of the happiest days" of his life.