By: TheTerminatorFans.com On April 8th, 2019
Ever since Terminator 2: Judgment Day flipped Arnold Schwarzenegger's role from bad to good – fans have wondered whether he will be programmed to fight for or against humanity in each subsequent movie.
Many Terminator Fans have wanted Arnold to return to being a rogue cyborg assassin villain but it has just become common-place to have Arnold play a mechanical heroic guardian (pardon the pun).
Recently James Cameron said Arnold would be bad but we previously speculated that might just mean… "bad to the bone" pointing towards another T2-esque good guy Terminator role for Arnold.
TheTerminatorFans.com spoke to Terminator: Dark Fate writer Billy Ray about Arnold's role in Terminator Dark Fate and he said…
"This will be an Arnold you've never seen before."

Billy Ray
James Cameron and Tim Miller have expressed that this time around the Aged Terminator aspect of Schwarzenegger's character will offer something fresh and new for the T-800 character. Although the idea was used in Terminator Genisys; it didn't reach its full potential but maybe this time it will… ?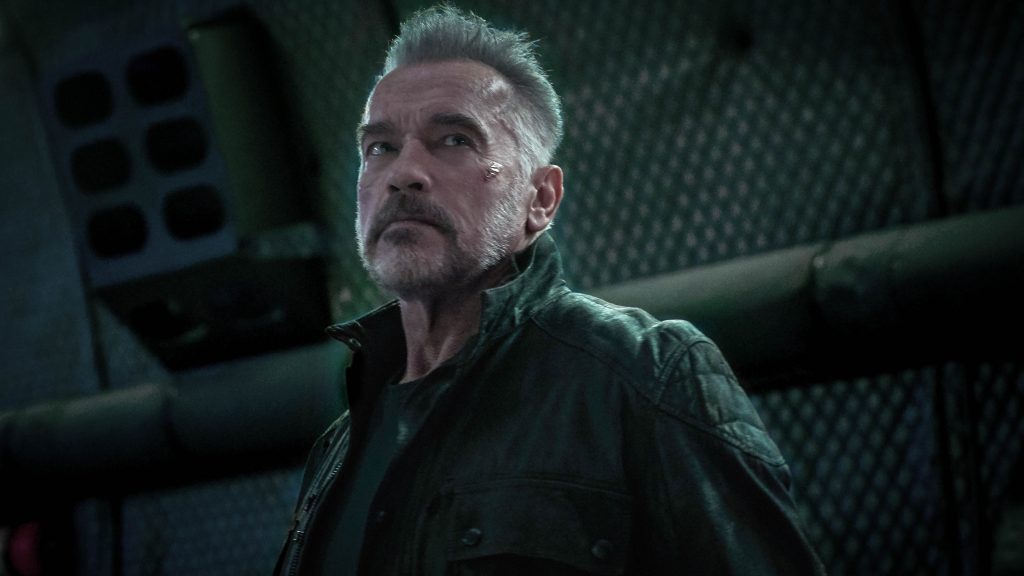 The new footage at CinemaCon revealed descriptions that could indeed be very telling to Arnold's status as good or bad…
Jeff Sneider of Collider had this to say:
"From there, it was an all-out assault on the senses as we caught glimpses of an underwater action scene, and one where Luna is hanging off a plane, Tom Cruise-style. Air, land, water — this movie has it all, and it looks like Miller pulled out all the stops and spared no expense. The footage ended with our first look at Arnold in all his Terminator glory."
Variety stated that:
"On more superficial levels, the action sequences inspired cheers in some and breathlessness in others. Luna is not the sole Terminator in this project, as Schwarzenegger does return to stir up some trouble."
Paul Shirey of JoBlo enlarged upon Arnold's Terminator with a more telling statement.

He said:
"We also saw Schwarzenegger as whatever Terminator he is; coming through a doorway and his left arm- the human part is gone, so it's just a robotic arm. He's a little bloody, battle-damaged.
We see Sarah Connor (Linda Hamilton) shooting her weapon, firing off in the distance, then you have Arnold's Terminator standing right next to her like in the fight with her, so it's kind of a side-by-side thing."
Terminators programmed to kill humans never usually stand side by side with their targets and aid them in battle… or do they?
We have more thoughts on this with a new theory article/video which you can check out by clicking here.