By: TheTerminatorFans.com On April 5th, 2019
At CinemaCon it was revealed that Gabriel Luna's Terminator could split in two/duplicate itself. The initial descriptions weren't great in respect to the finer details.
At first we presumed that this Terminator could possibly duplicate itself a number of times- reverse engineering the idea of the T-1000 and the equal size rules of copying a target by physical contact.
Now, thanks to clearer descriptions and details; it looks like Gabriel Luna's T-Unit can only split once and that split is a division of liquid metal from an endoskeleton- a dulled black Endoskeleton… yes, that unused concept for the T-850 from T3: Rise of the Machines, which went on to become the T-X, then was recycled into Pops Guardian T-800 in Terminator Genisys… and seems to be back as the new villain in Terminator: Dark Fate.
Did we ever like that idea or concept? We were never really decided on that and the T-X was never really seen as superior to the T-1000.
This of course means that the rules of equal size might still apply if the liquid metal can only part from the endoskeleton.
io9's report has a better recollection of Gabriel Luna's scenes:
"The next scene is on a bridge. A black ooze, very much like the T-1000 but darker and grimier, is reforming into the new Terminator played by Gabriel Luna. He's after a young woman, played by Natalia Reyes, who is being protected by Davis' character. Davis says, "When they start to kill me, you run," to the girl. Who is "they?" Well, it's the new Terminator. His power is to split and become a second whole Terminator, which looks like a black endoskeleton. At that moment, a truck speeds into the scene. It does an aggressive slide and out pops…Sarah Connor, who has a huge ass gun. She fills the human-looking Terminator with shells, much like the did at the end of Terminator 2, and then takes a bazooka off her back, and uses it to blow the shit out of the endoskeleton Terminator. "Who the fuck is that?" asks the girl. "I don't know," says Davis… Sarah Connor pulls out a grenade and drops it off the bridge. As it's in the air, she says to Davis and Reyes, "I'll be back," and walks away as the grenade explodes."
The liquid metal has been described as a black goo, so while it looks like Luna will have knives and stabbing weapons ability as with the T-1000, he will be a new unit or a mark 2 T-1000 or even a prototype predecessor of the T-1000.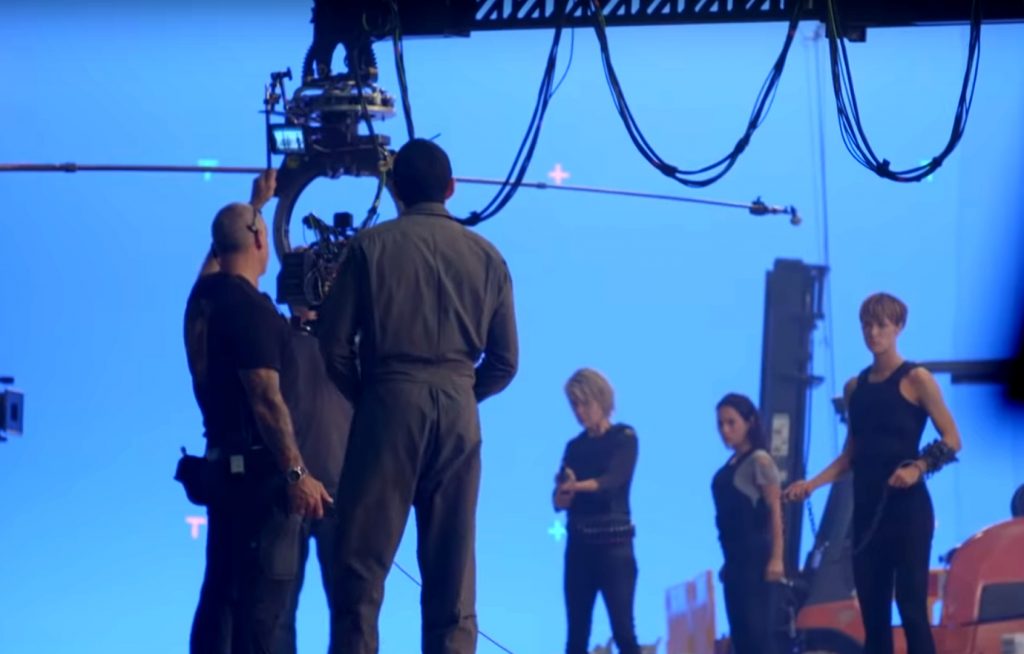 JoBlo has another description of Gabriel Luna's Terminator and some unfolding scenes of his abilities/being damaged… (transcribed by TheTerminatorFans.com)
"…cuts right to Gabriel Luna's Terminator character, he's kind of broken and he's kind of hunched over and there's a burning car behind him, so something happened. We're cutting right into a middle of the scene and he's damaged, like heavily damaged and we see the T-1000 style stuff coming together- the liquid metal, and he's like basically re-forming; so he was pretty fucked up and his pieces are all coming back together.
Then we see Mackenzie Davis and Natalia Reyes' characters… so this is daytime on an overpass and they're running, they look tired, they look kind of you know, damaged, hurt, they're in the middle of a chase and they're cornered because we see from the other side- a kind of dark-colored Terminator, so it's like a Terminator endoskeleton body but it's very dark it's still grayish, you got a grayish tint but it's really really dark but still with the red glowing eyes and it's kind of coming after them. So they're kind of cornered then we see Gabriel Luna's Terminator character make the knife-weapon; T-1000 knife-weapon out of his arm and he's getting ready to chase after them but surprise surprise… a truck comes screeching to a halt and out steps Linda Hamilton in full battle armor gear, same as you've seen in the photos that have been released- kitted up, ready to kick ass.
She steps out, not missing a beat, got sunglasses on and she pulls out what looks like an automatic shotgun, I'm not quite sure what she was using but it did have a big cartridge but she's just blasting away at Gabriel Luna's character, which ends up knocking off the bridge. So, he falls off the bridge but then she (Linda Hamilton) just doesn't even miss a beat, she just drops that weapon pulls out a rocket launcher, opens a tube, fires at the running endoskeleton and blows him up in place and then she just keeps walking up to Mackenzie Davis and Natalia Reyes' characters, stops, casually takes out a grenade, pulls the pin, drops it, explosion goes off, she looks over at Davis and Reyes like; "Don't worry, I'll be back." That's the cut, that's the end of that scene."
Does a Terminator villain with the ability to split in two excite you? Are you happy that the studios have seemingly merged the first two Terminator villains into one new more deadly unit?
Is Terminator: Dark Fate's new villain a recycled idea?
Or are you concerned about the impact that it could have on Terminator: Dark Fate's plot direction?
Got an opinion? Leave us a comment!
Thanks to @TheLightAsylum for emailing us with the io9 tip off.