By: TheTerminatorFans.com On December 20th, 2017
WIN A TERMINATOR 2: JUDGMENT DAY BUNDLE TO CELEBRATE THE FILM'S RELEASE ON UHD, BLU-RAY, 3D BLU-RAY, DVD and DIGITAL DOWNLOAD OUT NOW IN THE UNITED KINGDOM.
To celebrate the release of TERMINATOR 2: JUDGMENT DAY on UHD, BLU-RAY, 3D BLU-RAY, DVD & DIGITAL DOWNLOAD, TheTerminatorFans.com is giving away 1 Cybernetic Prize Bundle featuring a copy of the film on Blu-ray, film soundtrack, vinyl soundtrack, limited edition t- shirt and film poster!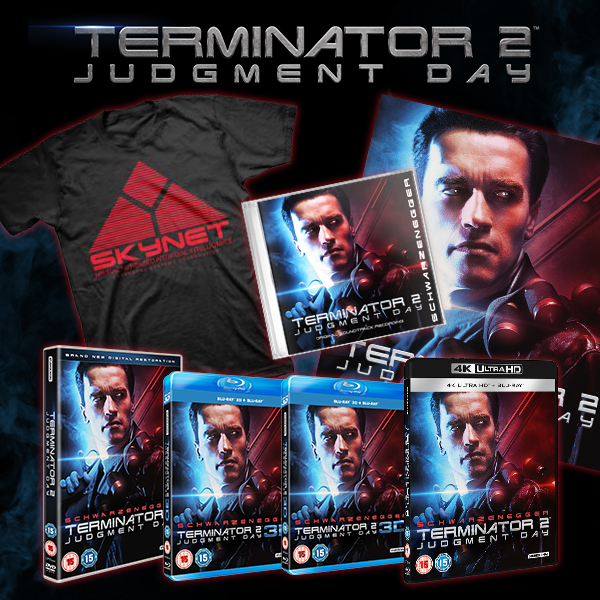 Having originally hit British screens in 1991, complete with groundbreaking special effects, this became Arnold Schwarzenegger's (Total Recall, Predator) most iconic role to date, as well as one of the most quotable scripts of the decade, this brand new 3D version will blast the seminal blockbuster into the 21st century and introduce it to a brand new generation of fans.
It has been 10 years since the events of Terminator. Sarah Connor's (Linda Hamilton The Terminator, Dante's Peak) ordeal is only just beginning as she struggles to protect her son John (Edward Furlong American History X, Pecker), the future leader of the human resistance against the machines, from a new Terminator (Robert Patrick Walk the Line, 'The X Files'), sent back in time to eliminate John Connor while he's still a child. Sarah and John don't have to face this terrifying threat alone however. The human resistance have managed to send them an ally, a warrior from the future ordered to protect John Connor at any cost.
The battle for tomorrow has begun…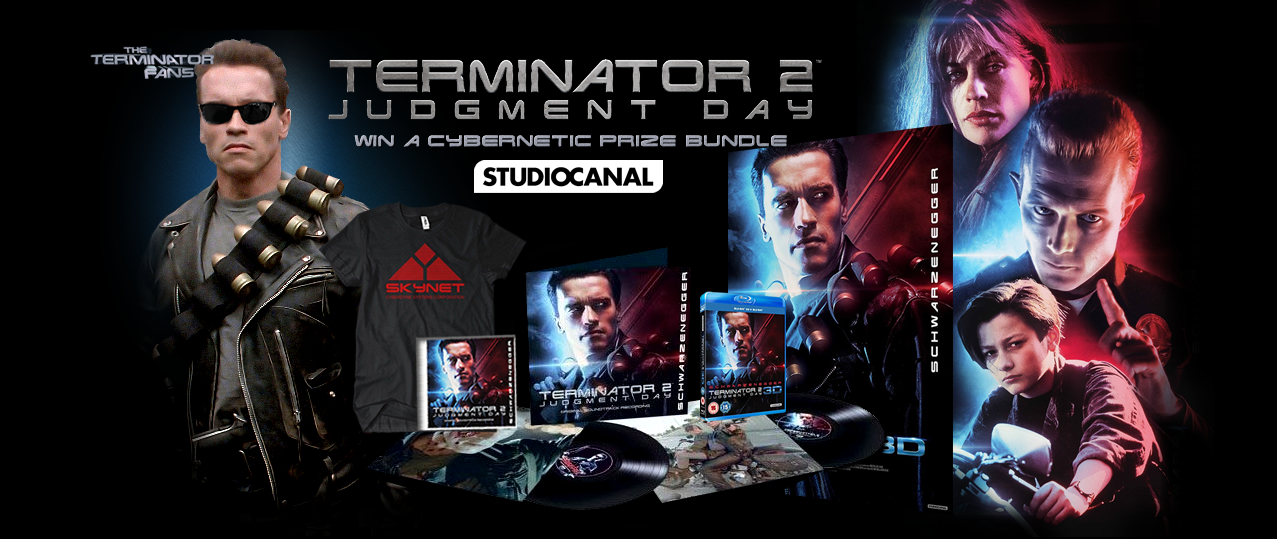 To be in with the chance of winning these cool prizes, simply answer the question below:
Which (confirmed) TERMINATOR 2: JUDGMENT DAY star will reunite with Arnold Schwarzenegger for the sixth theatrical Terminator movie (Terminator 2 Sequel)?
a): Jenette Goldstein
b): Linda Hamilton
c): S. Epatha Merkerson
The answer was of course Linda Hamilton (Sarah Connor) who will return with Arnold Schwarzenegger in the next Terminator movie.
Congratulations to Laurence Drew on winning this awesome Terminator 2: Judgment Day Cybernetic Prize Bundle!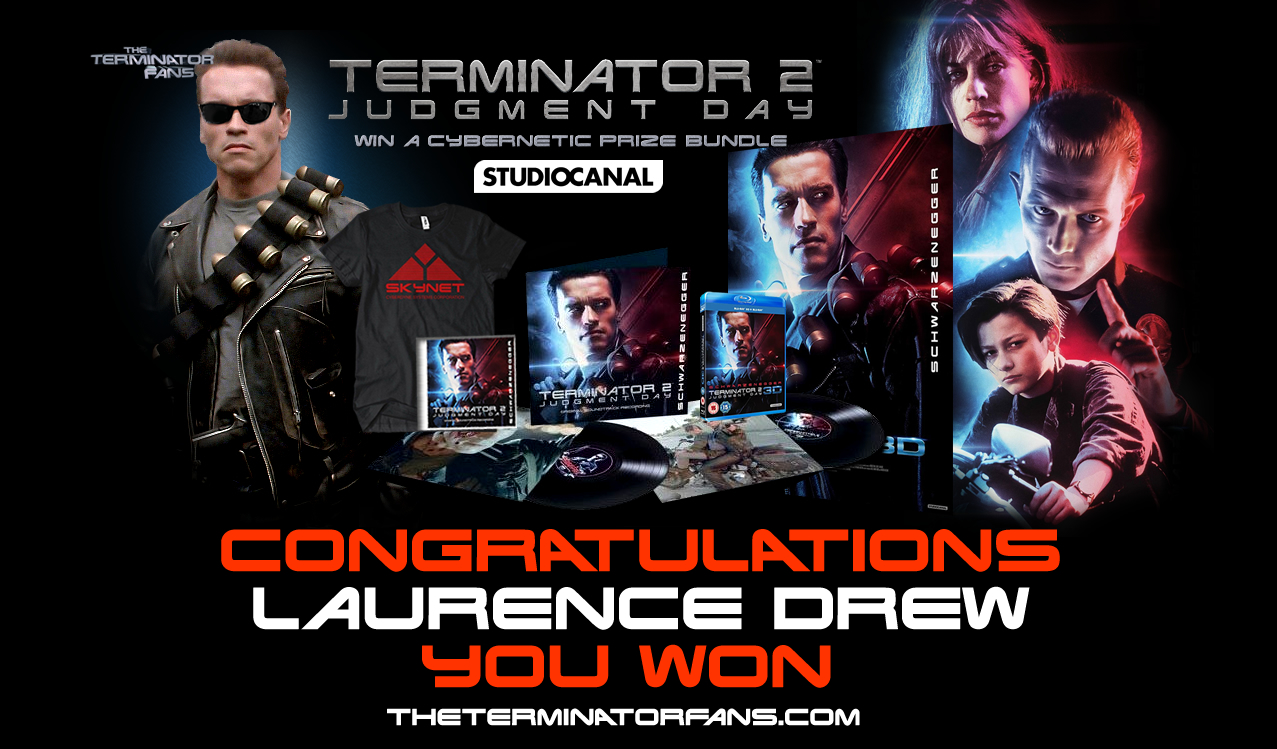 TERMINATOR 2: JUDGMENT DAY is available on 4k UHD (incl: Blu-Ray), 3D BLU-RAY (incl: Blu-Ray), BLU-RAY, DVD & DIGITAL DOWNLOAD NOW
For more information visit:
@StudioCanalUK / FB: StudioCanalUK
Terms & Conditions:
Contest closes on January the 5th 2018 – All entries beyond the specified date will be TERMINATED (contest extended to the 12th of January- all entries within the window accepted)
Competition prizes will be sent to UK addresses only
TheTerminatorFans.com (The Terminator Fans) are the promoter
Prize for 1 WINNER is 1 x Vinyl soundtrack, 1 x CD soundtrack, 1 x T-shirt, 1 x copy of Terminator 2 Judgment Day on Blu-ray and 1x poster
If any item listed above is unavailable, we reserve the right to substitute with an alternative item of similar value
Winners will be picked at random and contacted by the site. The prize will be delivered to the winner within 28 days of confirmation of delivery address
The winners must respond accepting the prize within 7 days of notification otherwise the Promoter reserves the right to redraw the prize from the remaining eligible entries up to 3 times before the competition is then declared void
There is no cash alternative to prizes which are subject to availability, non-transferable, non-negotiable and non-refundable. Prizes may not be sold, offered for sale
The Editor's decision is final and binding on the entrants. No correspondence will be entered into.