By: TheTerminatorFans.com On January 22nd, 2018
Skydance owner David Ellison purchased a gaming studio not that long back to develop gaming titles for the online market place and also gaming titles for upcoming movie licenses. It looks like Terminator (2019) could be one of them.
Very interestingly one of the next big titles (announced) to go into production will be a VR The Walking Dead game,- which will be a connection to Gale Anne Hurd (The Terminator) Producer of the hit zombie TV show. Although this could just be a case of licensing; it is nice to imagine that perhaps a yellow brick road might be being paved by David Ellison for Gale Anne Hurd to return to the world of Terminator in the future, something that TheTerminatorFans.com would be very supportive and appreciative of.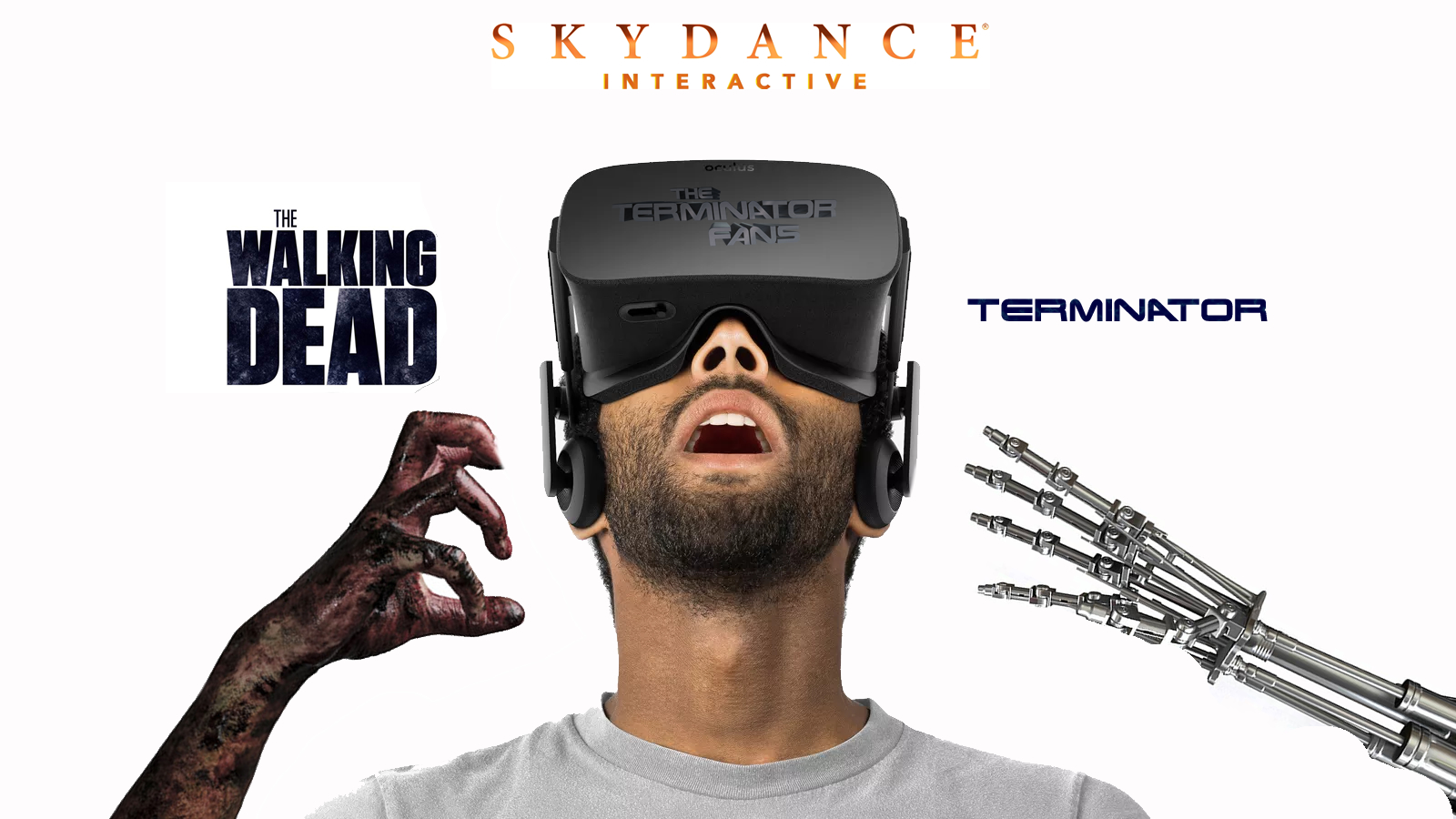 Chris Hewish (Executive Vice President on VR titles at Skydance Interactive) spoke to Venture Beat about existing and upcoming titles…
GamesBeat: Skydance as well, tell us more about that. Generally, people may know that Skydance is run by David Ellison, son of Larry Ellison. His sister is running Annapurna in Hollywood. These are some interesting new players doing different kinds of things.
Hewish: Skydance Media is a film, TV, interactive, and animation content creator, a studio. We partner with Paramount and Netflix for distribution and some other top companies. Our goal is to make great worlds, great content, triple-A big tent-pole properties and worlds. We've done things like the last Star Trek, Mission Impossible, the Terminator reboot that will be coming out in 2019. On Netflix, we're airing a show in a few weeks called Altered Carbon, which is based on a cyberpunk series of novels by [Richard] Morgan. Also Grace and Frankie, a popular show on Netflix. We have a wide range.
Now the above statement/answer seems very much a text book response, but…
GamesBeat: And now you're going to double down on VR?
Hewish: We are. We're focused purely on VR now, at least within our interactive studio. From a broader perspective, when you look at the interactive division at Skydance, we're also looking at co-development and licensing deals to get our content onto other platforms, but we're doing VR in-house. We're working on Walking Dead and an unannounced title that will be coming out in 2019, as well as more content for Archangel.
Wait… an unannounced title is coming out in 2019? We wonder what that could be *wink wink*… ?
A VR Terminator game sounds good, especially in a world lacking in Terminator games. Personally, we have never tried VR gaming but we do know that there is a market for it, more now than ever and its popularity is growing but is a chunk of the fan base going to be left out due to the niche of VR? One would hope that the game will still be playable (the old fashioned way) with a controller; to make sure everyone can play this game and on consoles, not just limited to steam or a PC platform. Terminator Fans would also hope that the game is of substance and not just a viral experience that has little replay factor.
While a VR game for the new Terminator movie has some good potential; we also hope this is not the only game planned and that we might get some meaty, big production value Terminator console games going into the pipeline (which have good story modes and multiplayer functions/experiences).

This would be the first Terminator VR game for Skydance but not the first VR project; in 2015 to promote Terminator Genisys; Arnold Schwarzenegger starred in a VR experience called Terminator Genisys: The YouTube Chronicles. A Terminator VR game was created for China for Terminator 2: Judgment Day 3D but this possible 2019 Terminator game at Skydance Interactive has the potential to be the best and most professionally done VR game yet and we hope Skydance Interactive can pull this off well.
For those of you wanting to try a Skydance VR gaming title… you should probably check out Archangel.