By: TheTerminatorFans.com On July 30th, 2018
Schwarzenegger has now arrived in Budapest to film Terminator (2019) on his birthday! It seems as if Arnold has been shooting the movie (prior to his arrival in Hungary) in secret, if we think about it; on the last movie they needed to do 3D scans of him for VFX so he could have been doing work for the movie at the Paramount Pictures lot or visiting ILM for 3D body scans and the like. Arnold announced he was working on the movie in a video message to the President of Fiji on the 26th of July (as far as we can tell).
Shooting is seemingly going to continue in both Spain and Hungary, so now Arnold is part of the shoot other rumors suggest that in a couple of months the shoot will return back to the United States, which makes sense as the movie is to feature the US/Mexico border.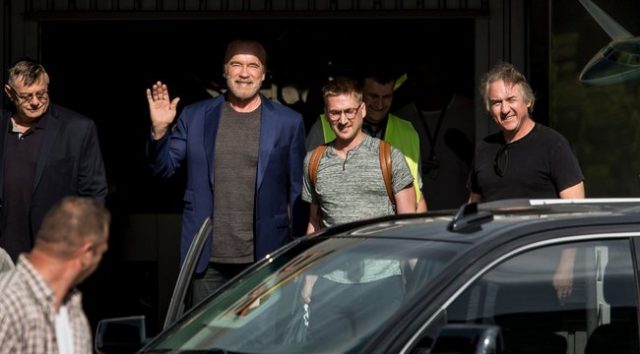 borsonline.hu reports:
On Monday afternoon Arnold Schwarzenegger arrived in Hungary, who will perform the rotating work of the sixth part of the Terminator series in Hungary. The 71-year-old filmmaker will be rolling out in Budapest and Komárom in the coming days, with a new partner in Linda Hamilton playing Sarah Connor in the first two. Schwarzenegger is playing the death toll for the fifth time, in the first part he was still evil, but in the rest we have seen a positive role. In the fourth part, in the Redemption, only digital graphics were present…

… He is an Austria-born, bodybuilding world champion, and then California Governor celebrates his 71st birthday today. Although he arrived in the afternoon, the staff members of the staff obviously appreciate the opportunity to celebrate the next day's shooting days. Arnie arrived in the afternoon with a private car, and leaving the building, cheerfully waving to the photographers. But he did not have time for a long time, he got into the car and went to the downtown hotel, where he would probably be hiding with his companions for his birthday.
Happy Birthday Arnold and good luck on Terminator (2019). The fans appreciate you going in to Terminator mode on your birthday.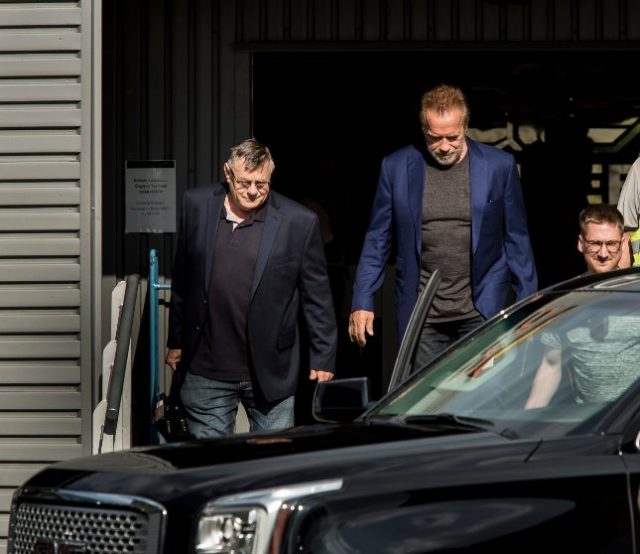 Thanks to Nyulas Zoltán for the tip off.