By: TheTerminatorFans.com On November 4th, 2018
Back in May 2018 the new Terminator movie began to give us the impression that it was going to get political, and now we have confirmation that our gut feelings (and all the information pointing to potential political themes) are indeed true.
Initially we found out that Terminator 6 / Untitled Terminator Reboot was going to be set in Mexico (which makes sense, as it is not a foreign land in regards to the mythos of the Terminator saga), though something which raised alarm bells was the prospect of the US-Mexico border featuring in the story.
Later we found out that one of the interior sets was decorated as an immigration camp etc, those aspects added to twitter feuds between Arnold Schwarzenegger and Donald Trump,- plus the global warming issue with Trump which was infuriating James Cameron… it was starting to a lot look like Terminator 6 could have something political to say.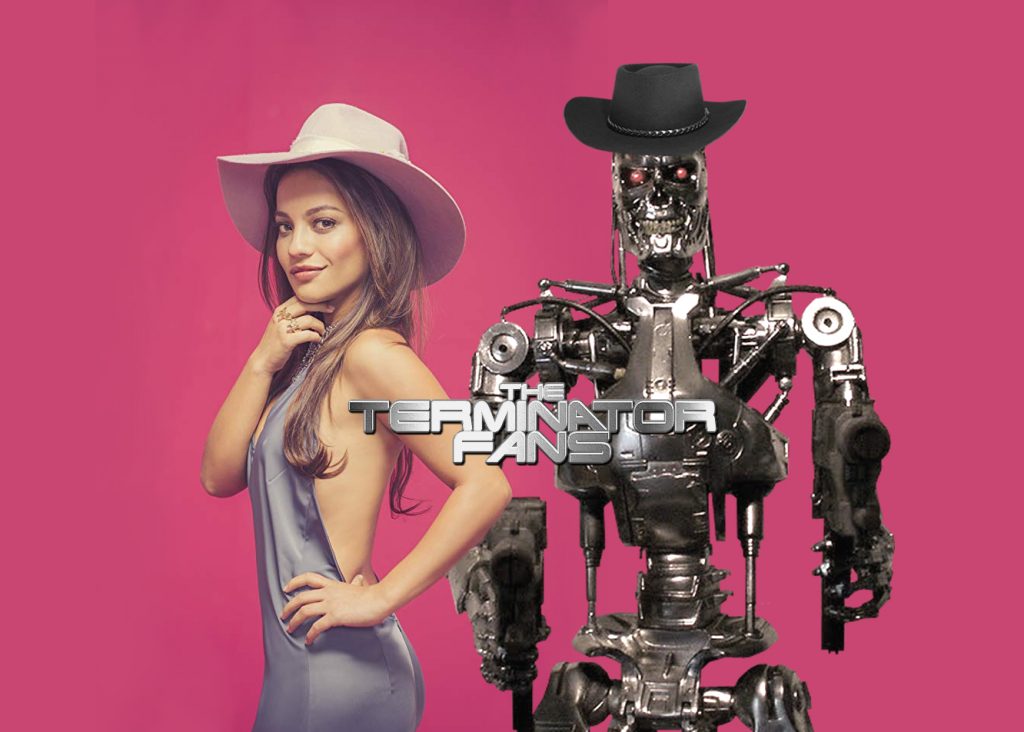 In an interview in mid-october with El Pais; Natalia Reyes (who is playing Dani Ramos) revealed that Terminator 6 will touch on many issues involving the United States.
(the following excerpts are translated)
El Pais: "Tell us about your character Daniela Ramos … ?"
Natalia: "The truth is that no longer talk much about the details of the characters, want to keep the surprise for the public. What is known is that I am Daniela Ramos, I am a Mexican girl, very young and I enter this saga of 'Terminator' that is going to have a lot of Latin flavor, it is going to touch many issues of the border and what is happening in the United States. It is a very current movie, but keeping the essence of 'Terminator' and this whole issue of how we are increasingly at the mercy of all technology and machines."
On how Natalia feels America will be represented…
El Pais: "In the saga of 'Terminator' as America feels well represented?"
Natalia: "Yes, totally. I think they are trying to get away from the stereotype and cliché and show real people, people with whom we can all feel identified."
On the expansion of Latino roles (moving away from stereotypes) and overall representation in Hollywood…
El Pais: "Do you see growth of roles for Latinos in Hollywood?"
Natalia: "Sure, I think it's part of what's going on and it is precisely that having a much larger Latino market in the United States, begins to have greater representation in movies and in all the cultural aspects there is a much more important Latin presence, that is also part of the film that I am telling and that, obviously, is a good opportunity not only for me, but for all Latinos in the United States."
El Pais: "Have you seen a change in roles for Latino actors who are not only playing the narcos?"
Natalia: "Yes, my role, for example, is not a typical Latin character. There are other possibilities to see the Latinos and the spectrum has expanded, you can start to see other types of characters and stories that represent the variety and different types of Latinos."
Natalia Reyes posted this picture to Instagram:
Instagram post translation:
nataliareyesg – Latinos • immigrants • dreamers ✊🏽 🇲🇽 🇨🇴 We are, @diegoBoneta, me and all the people we represent. Many people live outside the country where they were born pursuing their dreams, with little luggage but with a lot of perseverance and discipline, working daily for a goal that almost always seems impossible. We are in charge of eliminating borders, of winning a space with talent and warmth, of building bridges that make us understand that we are all one.
It forces all those who open a new path every day, reinvent themselves and build that home that is only inside of us.
A pleasure to have you here my dear@diego, to continue learning and enjoying each experience, from each step. Good way! 😘

#ShotOnIphone 
#LatinoPower #WeAreAllImmigrants #Dreamers #MoreBrigdesLessWalls #AmericaIsAContinent
How do you feel about the political aspect to Terminator 6?
Comment below…