By: TheTerminatorFans.com On August 9th, 2017
Here is a first look at a new Terminator Fan Film based solely in the Future War as glimpsed in James Cameron's original Terminator movies. The style and tone of this fan film is obviously based on the much loved violent and gritty horror tone of the first movie The Terminator (1984).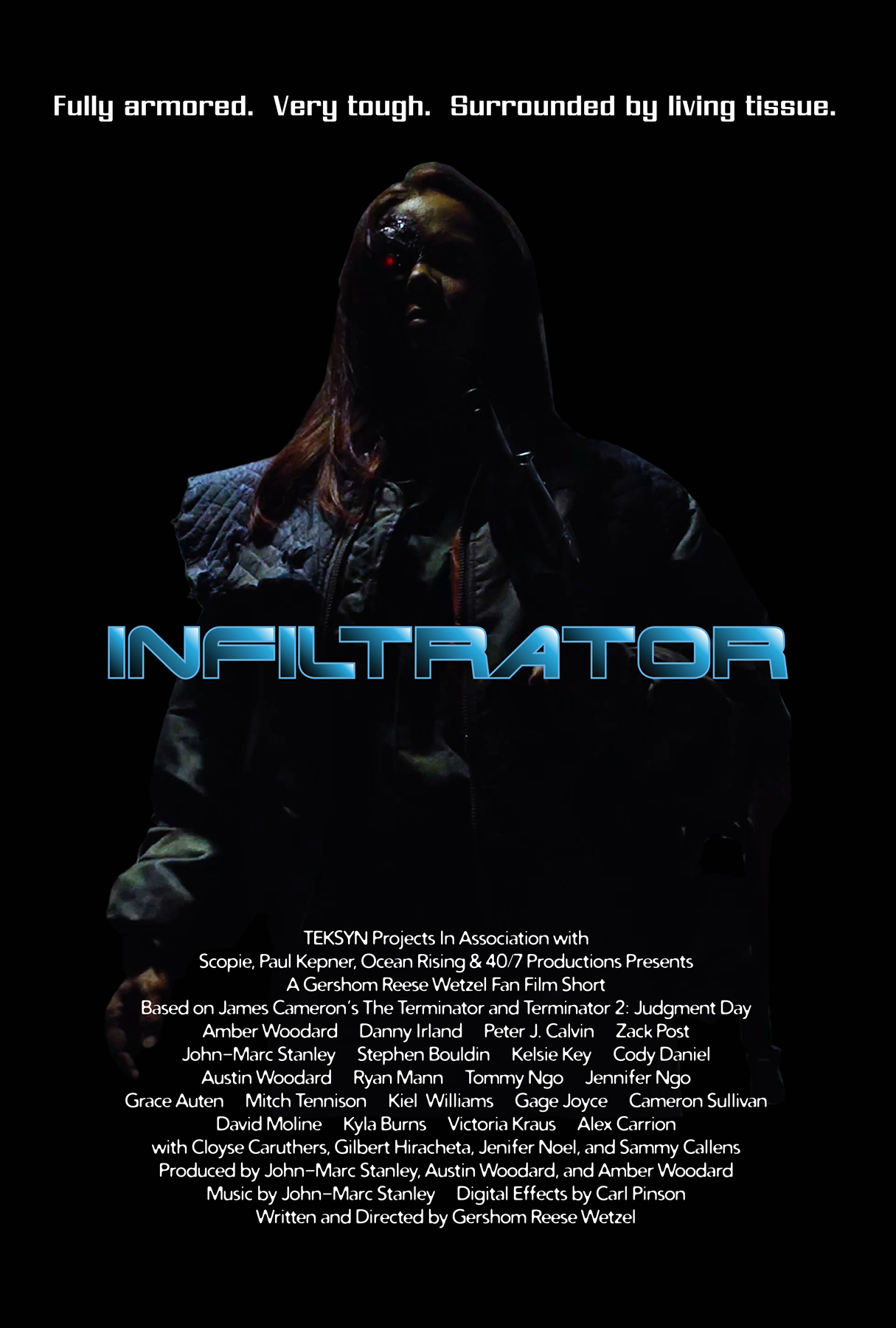 Originally the project was meant to be a crowdfunded webseries but all 4 episodes are rolled into one for this full fan film. There are plenty of easter eggs to be found (character names) and nods to the franchise that fans should enjoy. The music will also take you back to that uneasy feeling Brad Fiedel created in the original movie.
The fan film itself speaks for the voice of some fans who might like to see future movies in a full future war setting… Terminator 6?
A sequel titled "SkyNet" is also planned.
Let us know what you think of the film in the comments below.
INFILTRATOR — a TERMINATOR FAN FILM
Written and directed by Gershom Reese Wetzel
Mankind hid beneath the ashes of the nuclear fire, driven to the brink by the relentless war machines of their enemy's crusade to exterminate humanity. Its earliest attempts were sheathed in rubber skin. But the newest version…is superior, stronger, deadlier.
***
INFILTRATOR began as a pitch video for a crowd-funder that we never got around to launching for a feature-length Terminator fan-film. That film (entitled SKYNET) was written in 9 days after I saw Terminator: Genisys, which, while entertaining, rolled right past the story that seems to glare at me as the obvious conclusion to the original John Connor/SKYNET-centric battle in the first two films. We've never seen these two legendary adversaries go at it on the battlefield James Cameron described to us in his two films. I get the argument: "But it seems so predictable." So does football, but the NFL banks, don't they? Predictable does not equate to boring. Or irrelevant. So with INFILTRATOR, we set out to demonstrate that our script (SKYNET), heavily rooted in the James Cameron-established 2029 continuity of The Terminator and Terminator 2: Judgment Day, launches forward into that world with a rich cast of characters (different from those in INFILTRATOR), and would close the loop on Mr. Cameron's initial vision of John Connor defeating SKYNET and sending his own father back to 1984 to rescue Sarah Connor from The Terminator. Simultaneously a sequel and a prequel.

"The future is not set…"

…or is it?
~ GRW
Writer/Director