By: TheTerminatorFans.com On April 4th, 2015
In the first Terminator movie the T-800 acquired his clothing from a gang of punks hanging out at his arrival point (Griffith Park Observatory). In Terminator Genisys- instead of just killing the punks outright and taking the clothes, Arnold (Guardian) will interrupt 'The Terminator'.
The original "Fuck you asshole" line delivered by Bill Paxton's punk in response to Arnold demanding their clothes has been filmed, but with no age rating confirmation; it is unknown if "Fuck you asshole" will be featured in the theatrical cut or be held back for an R Rated Home Release of the movie.
What we can tell you is after Arnold and the punks deliver their lines…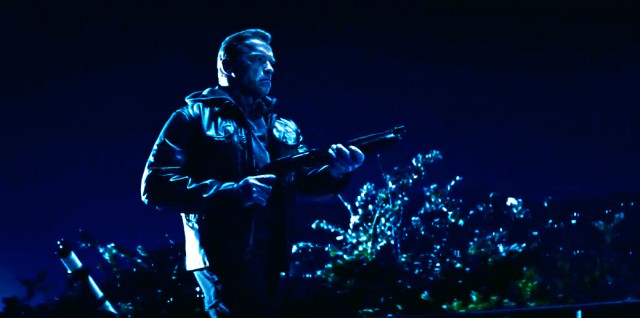 the Guardian says:
You won't be needing any clothes…
The Punks should be freaked out when Guardian is pointing a shotgun in their direction and the scene will obviously play out differently to the original movie.
The punk actors are pictured below.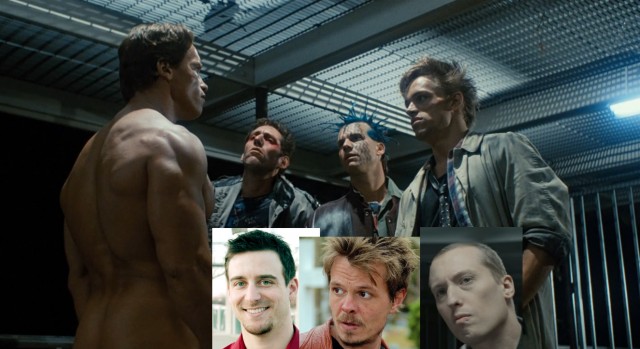 The Punks will stand in their original positions and we can now confirm that the punk on the far left of the trio is indeed wearing Arnold's first ever iconic Terminator costume which has become known as the 'Tech Noir Showdown' costume.
Obviously we have seen some of the fight, and the younger T-800 (The Terminator) is indeed naked for the Deathmatch/Smackdown- obviously minus his offensive weapon.
The punks will flea and we are pretty sure the iconic costume will disappear on the back of the punk wearing it, but it's a nice touch and a cameo from a damn fine costume! Little touches like this could make the film enjoyable.