By: TheTerminatorFans.com On May 31st, 2018
The Almeria shoot for the movie brings interesting news; the new Terminator movie aims to be a canon sequel to Terminator 2: Judgment Day and  the studios might be keeping Judgment Day as August 29th 1997 as the day the bombs hit… Or was it delayed due to the destruction of Cyberdyne?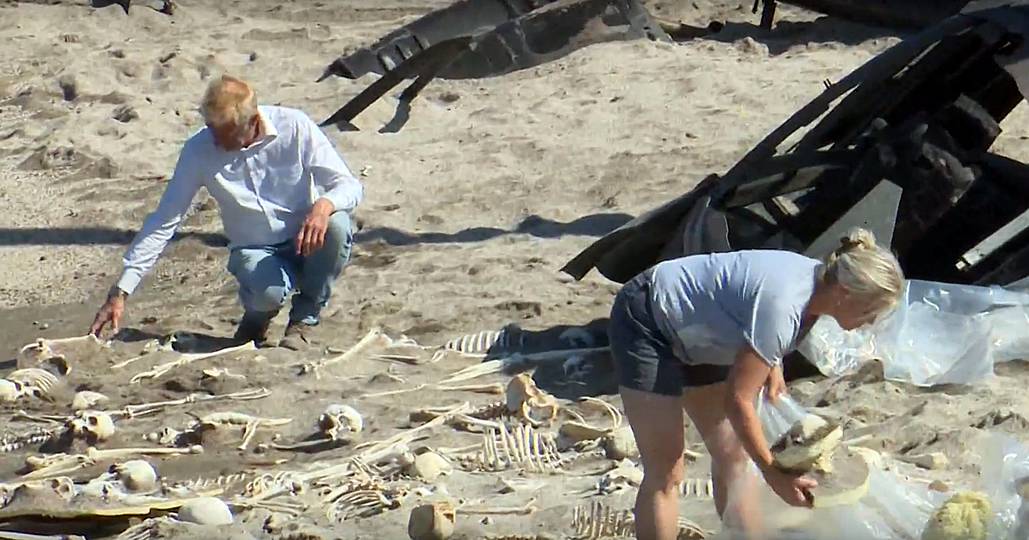 Some fans will have noticed tilted palm trees in set photos and talks/images of a crashed helicopter but in a new Spanish video on the set- we can see production designer Sonja Klaus laying skulls and bones on the ground, suggesting this is a post-nuclear fallout scene, otherwise the bodies would be fresh and bloody?
Guatemala (the location that Almeria's Isleta del Moro represents) might have avoided the worst of the fallout, counter attack Russian bombs may have caused radiation and blast damage but not enough to decimate the entire central American location.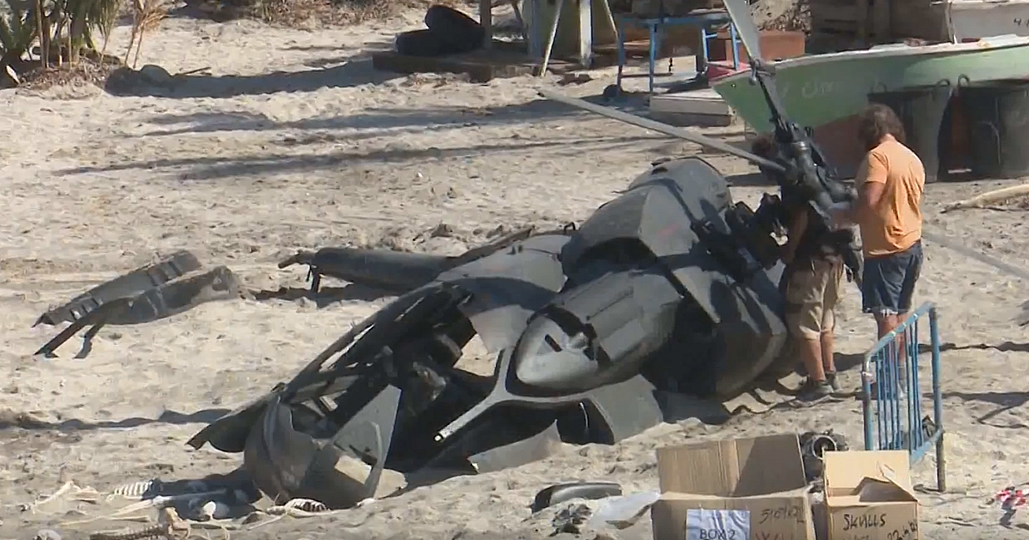 If this movie is not post-Judgment Day then it could be a Sarah Connor nightmare or a future flash forward but visually this desert look reminds us of Terminator Salvation; unless the intention is to change this setting into a true blue future war set in post-production with colorization/digital artistry. We know that a CGI Arnold and Edward Furlong look to have been involved in the early shoot with body-doubles so maybe this could be a nightmare featuring John Connor and the T-800… ?
The skulls and skeletons and the tilted trees do suggest apocalypse and possibly that R Rating that fans want but even Terminator Salvation had scenes of Skeletons which were cut out later to meet the PG-13 criteria, so we are not going to get excited just in case it's for show; especially when this set was meant to have a ban on cameras and drones and every Tom, Dick and Harry has been taking photos and videos of the location to raise tourist location value in Spain.
This movie is difficult to report on for the sheer fact the studios want to keep it as secret as possible (which we respect) but also at the same time it  seems to be damaging the ability for hype to be raised about the movie or any excitement to be built up.
We are remaining open minded about this new movie as we think it deserves a chance (mainly for Linda) until we see images or trailers etc. but the longer such material is withheld the more chances there are that it is only going to raise red flags with the fans.
A great move, at this stage, would be to release a non-movie footage teaser trailer and/or an image of Linda Hamilton (professionally taken photo on set) to raise some positive hype and extra awareness- this film has been in production for weeks. Usually day one of a movie shoot yields some kind of image or teaser but no such thing has happened with this movie.
Watch the set videos below…
Want to see more, get more information and see more set photos of this location… then click here.