By: TheTerminatorFans.com On April 29th, 2017
Hardcore Terminator Fan Daniel Yanez attended advance screenings of Terminator 2: 3D at the BAFICI – FESTIVALES DE BUENOS AIRES in Argentina. He wrote us an honest review of his experience and kindly answered some questions for us relating to the 3D release of Terminator 2: Judgment Day's 3D remaster.
Terminator 2: 3D Fan Review:
I watched both Saturday and Sunday's screenings. The theater was half full on both occasions. The movie wasn't advertised as an individual release but as part of the festival through the catalog and schedule, so I'm assuming a proper re-release (a la Back to the Future or Titanic 3D) would get more tickets sold. That said, the Wednesday screening sold out (Wednesday 26th) at Village Recoleta 8 at 22:00 (previously at 21:30, but it got changed). The link you had on TheTerminatorFans.com was correct this screening sold out: Its capacity is 223 seats (200 tickets were sold for Saturday and 217 tickets for Sunday screenings). It's a smaller screen but it's known for having a better picture quality overall.
I wasn't blown away by the 3D experience. It's very subtle. There are only a few moments (shotguns aiming at the screen) where you could appreciate the 3D effects. Otherwise I forgot I was watching a 3D movie. It wasn't as dark as most movies and the picture quality was really good.
I didn't mind the 3D experience (or lack of it). For me, it was the thrill of watching it again in theaters, sharing the experience with other moviegoers.
Terminator 2: 3D Interview With Terminator Fan Daniel Yanez:
Jim Cameron announced a windshield replacement for the gag/mistake in the drainage canal chase sequence… can you confirm if the digital fix was good/could you tell it was a digital fix eg. if you had not seen the movie before would you be able to tell any digital trickery/manipulation of the windscreen had taken place?
I knew about the windshield replacement beforehand, so I watched the scene closely. I couldn't see any weird fx, as if nothing was wrong with it. Very well done. Another thing that caught my attention was the stunt double on the bike scenes (bike jumping into the canal and stunt reaching to pick John Connor up from his bike)… I could swear that they replaced the stunt double's face with Arnold's. But I'm not 100% sure.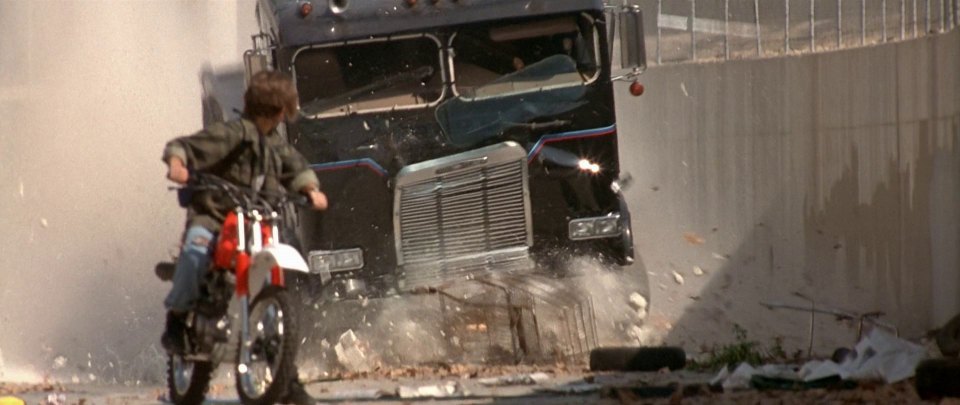 Were the dark blue tones of the first two James Cameron Terminator movies present in T2:3D or, as you said, is it much brighter in color tone?
The night scenes are a bit brighter in color tone, with less dark shadows. It retains the blue tint. But it's nothing like the comparisons you showed on TheTerminatorFans.com   Nothing like that at all. No giant light bulb was turned on.  I feel those photos that were released are probably just promo shots.

The aspect ratio is the same as the blu-ray or the photo on the left:
Will the digital remaster be a must buy on home release?
I'll be buying the remaster on blu-ray for sure.
The movie was degrained, is it much more polished/cleaner looking in presentation?
 It looks cleaner/crisper, but it's not Predator on blu-ray. That was an awful job.
Would you have preferred to have watched the presentation in 2D?
I did love the 3D from T2:3D at Universal Studios. If I had a choice of converted 3D vs 2D, I would have chosen 2D. I don't like 3D conversions, but I'm glad I got to watch it again on the big screen.
Anything else you would like to mention?
It was the 137 minutes theatrical cut. Nothing cut or added from the special edition. The credits adds 30 or so seconds for the 3D remaster crew (in a similar way it's done with the special edition).
Thanks Daniel for your informative and honest review of Terminator 2: 3D.
TheTerminatorFans.com Final thoughts about this Terminator 2: 3D Fan Review
We definitely feel that Terminator 2: 3D should have the option of 2D screenings for those who do not enjoy the 3D experience especially for those with eye sight problems which can effect the viewing experience of 3D (until James Cameron and theaters can bring us naked eye 3D technology which packs an Endoskeleton punch).
We also need to remember in Terminator 2 that plenty of guns point towards the screen, so if those are the most notable 3D moments there should be quite a few of them.
Obviously Terminator 2: 3D will be a cool experience for 3D fans and Terminator Fans in general but also come the home releases on Blu-Ray the 2D experience will also be fresh and exciting in 2D as well as 3D.
Daniel Yanez noted that Peter Kent (the stuntman for Arnold Schwarzenegger) who did the drainage canal chase sequences,- might have been digitally altered but James Cameron stated the only fix he did was the windshield which according to Daniel was a flawless CG tweak/fix of the gag/mistake in the movie in which the windshield falls out after the jump off the bridge into the canal itself and is magically back in the truck before the T-1000 smashes it back out again to better see his target (John Connor). What Daniel might have experienced is a higher quality resolution/experience of those scenes allowing him to see more of the make-up work/prosthetics by Jeff Dawn and Stan Winston Studios as Peter Kent wore facial appliances for this scene to give the illusion Arnold Schwarzenegger was doing all the work on the back of the Harley Davidson Fat Boy.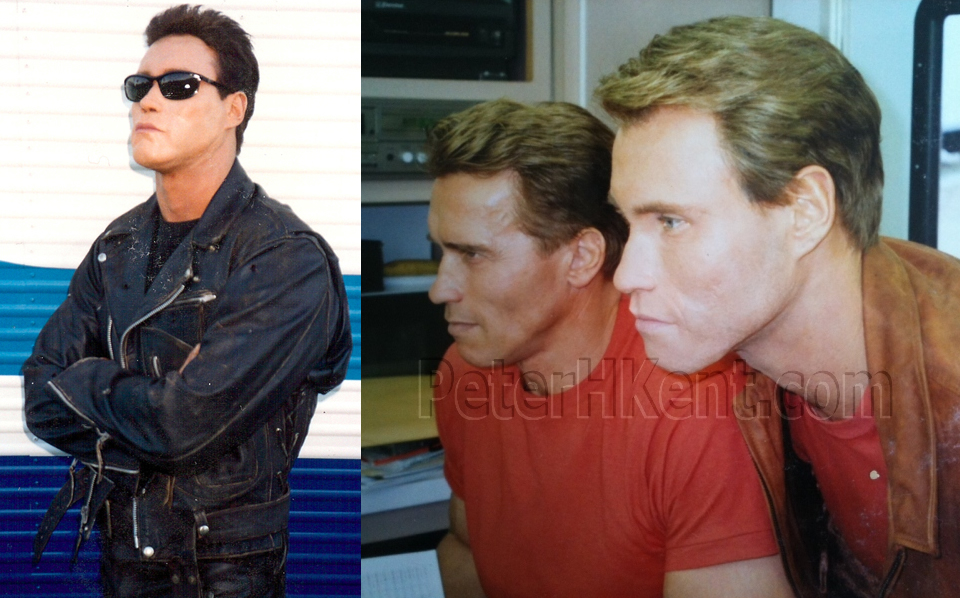 Overall it is nice to hear that we will be seeing the theatrical cut and no smiling T-800's will ruin the party for us; as you may remember we promised to walk out the theater if Arnold Schwarzenegger smiled in Terminator 2: 3D… and we did mean it! His smirk while holding the mini-gun is definitely a push enough and though T2 is just an R Rated kids movie in disguise… it is one we will always have fond memories of from childhood.
While we love T2, we do hope the franchise will go back to its roots and meld with the original movies serious tones/horror/thriller elements but also include the high octane action of one of the greatest summer action blockbusters ever, whether that will happen again without James Cameron behind the camera itself remains to be seen but it hasn't happened so far…
The release will of course bring more collectibles for T2, which is of course always welcome… did you get hold of your special promo trading cards of T-800 CSM-101 and Sarah Connor?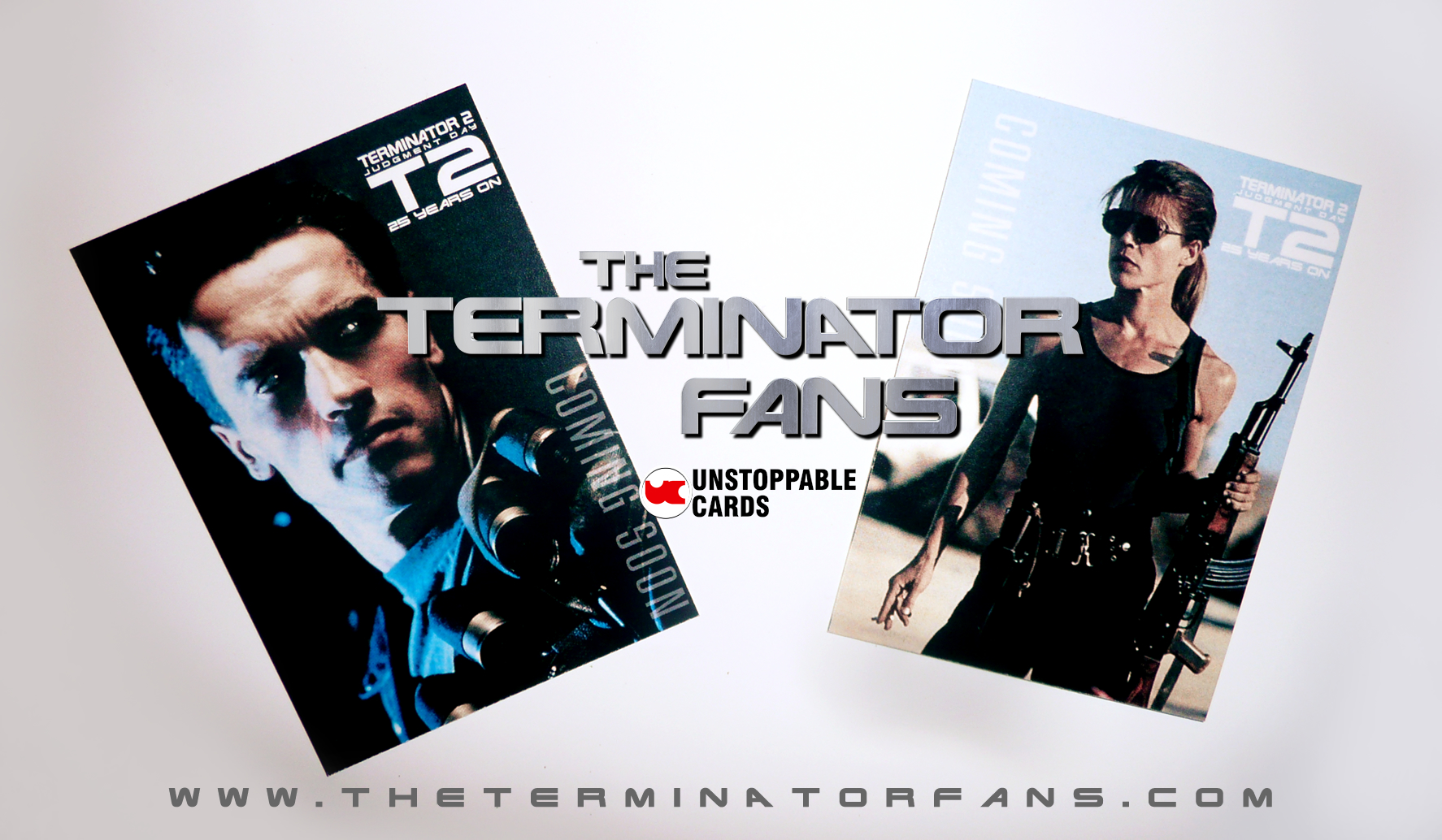 We obviously hope Terminator 2: 3D will reconnect audiences with the franchise again and the original timeline, we very much hope to see Arnold Schwarzenegger and Linda Hamilton back as the stars of the franchise once again with Terminator 6 and hopefully they can pull us back into the episodic story of what we believe should be a canon continuation sequel to Terminator 2: Judgment Day.