By: TheTerminatorFans.com On October 20th, 2017
At the request of German Terminator Fans (and Terminator Fans in general) we have been looking into what could be causing the shifting release dates of the home release of the Terminator 2 3D/4K UHD Remaster and it looks like the culprit could well be the "unforeseeable difficulties in production" of the much awaited Endo Arm Collector's Edition of Terminator 2: Judgment Day.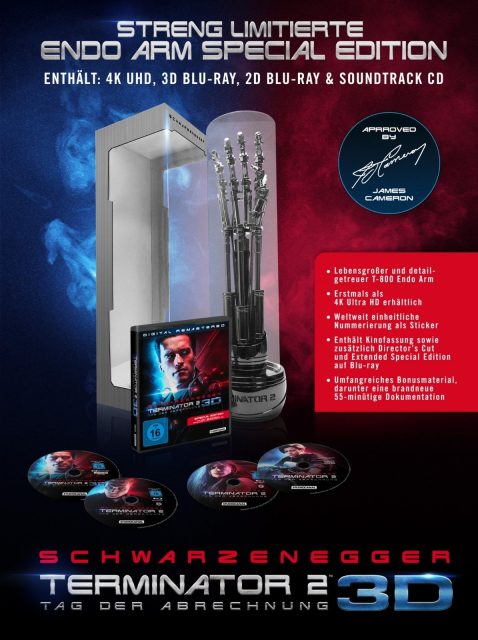 STUDIOCANAL Germany tells TheTerminatorFans.com:
The release date of the discs in Germany is the  23rd of November 2017. Unfortunately, we cannot provide a definite release date for the endo-arm at the moment.

We apologize to all the fans who pre-ordered for the possible inconvenience and we ask for your understanding.
German Terminator Fans who pre-ordered also received the following notification; which STUDIOCANAL kindly gave us a copy of (keep reading for a translation as this information is relevant to all those worldwide who pre-ordered an ENDO ARM) .
Hallo …,

leider müssen wir Sie informieren, dass sich die Auslieferung der limitierten TERMINATOR 2 ENDO-ARM EDITION aufgrund von unvorhersehbaren Schwierigkeiten in der Produktion verzögern wird.

Die Endo-Arm-Edition soll als Sammlerstück für alle TERMINATOR-Fans weltweit in bestmöglicher Qualität ausgeliefert werden. Um dem hohen Anspruch gerecht zu werden, den wir selber und auch die Fans daran setzen, haben wir uns dazu entschlossen den Termin zu verschieben um diesen garantieren zu können. Wir arbeiten mit Hochdruck daran, die Endo-Arm Edition schnellstmöglich ausliefern zu können und geben zeitnah den neuen Liefertermin bekannt.

Wir entschuldigen uns für die Verzögerung und hoffen auf Verständnis für die Entscheidung.

Damit die Wartezeit nicht zu lang wird: Alle in der Endo-Arm enthaltenen Discs (Blu-ray, 3D Blu-ray, 4K UHD Blu-ray sowie der Soundtrack) bekommen Sie von uns selbstverständlich pünktlich zum Release der TERMINATOR 2 Produkte am 23. November zugeschickt!

Nochmals vielen Dank für die Geduld,
Ihr STUDIOCANAL-Team
Translated by Google:
Hello …,

unfortunately we have to inform you that the delivery of the limited TERMINATOR 2 ENDO-ARM EDITION will be delayed due to unforeseeable difficulties in production.

The Endo Arm Edition is to be delivered as a collector's item for all TERMINATOR fans worldwide in the best possible quality. In order to meet the high demands we place on ourselves and also the fans, we have decided to postpone the date to guarantee this. We are working with high pressure to deliver the Endo-Arm Edition as soon as possible and will promptly announce the new delivery date.

We apologize for the delay and hope to understand the decision.

To keep the waiting time at a minimum: All the endo-arm discs (Blu-ray, 3D Blu-ray, 4K UHD Blu-ray and soundtrack) will be delivered by us on time to the release of the TERMINATOR 2 products on the 23rd.

Thanks again for the patience,
Your STUDIOCANAL team
We have received some angry messages from some US fans asking for help to find out what is going on but we are very happy with how STUDIOCANAL is handling this matter so far and now that we know there are problems in the production of the ENDO ARM edition,- we are glad STUDIOCANAL is taking the time to make sure fans receive the best possible product and aren't rushing out a collectible with problems or issues.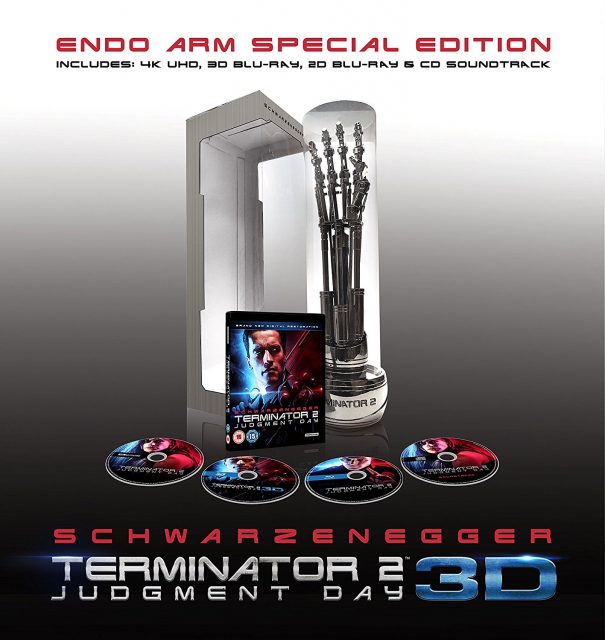 UK Endo Arm Edition
As always we encourage fans to be patient and for studios to be patient and not rush making Terminator movies because GOOD THINGS COME TO THOSE WHO WAIT.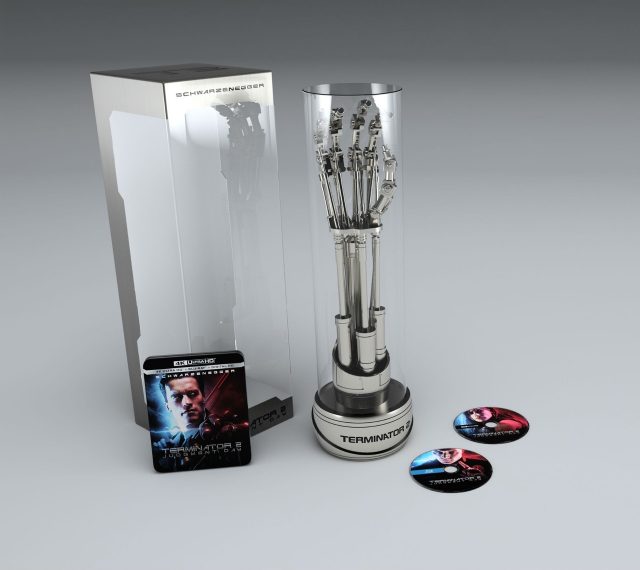 USA Endo Arm
Thanks STUDIOCANAL and STUDIOCANAL Germany for letting us know what is going on and for making sure fans will receive something special and well made and thanks to all The Terminator Fans who are anxiously/patiently waiting for the Endo Arm Edition to arrive at their homes.
The wait continues for the ENDO ARM but we can distract ourselves with the home release of T2 which is marching forwards and the fans can entertain themselves with Terminator 6 speculation in the meantime!