By: TheTerminatorFans.com On September 13th, 2018
As previously reported Tristán Ulloa joined the Terminator Reboot's cast as a mystery character and in June he teased a picture of some boots on his Instagram account. A few days ago his shoot finished and we got a first look at how his character will look in the movie thanks to an Instagram post by the actor.
Tristán complimented director Tim Miller for his patience on the set of the movie. Noticing one of our pet peeves in the background of the image (green screen), it is hard to tell if this is a movie set or just a photoshoot of characters (done the old fashioned way). A woman in a military outfit can also be seen.
It is unknown what character Tristán will play, or if we he will have any connection to the previous Terminator canon but he could potentially play any role in the movie; though it does potentially look like his character (even if just a supporting role) has quite a bit of screen time.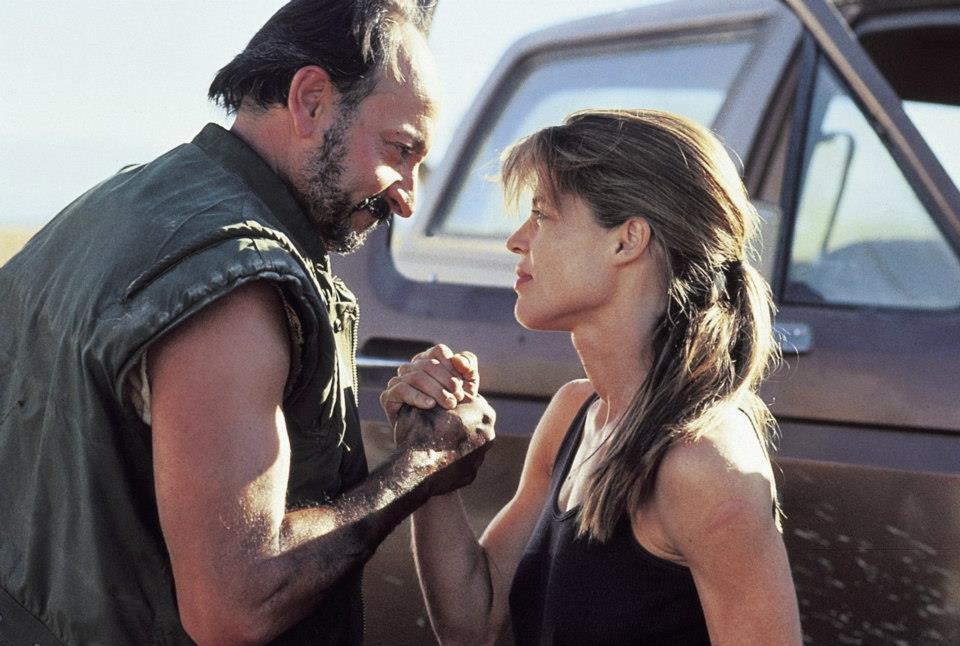 Given the movie's setting- we obviously think about Enrique and Sarah Connor's off the grid militia connections in the years when she trained her young son to use weapons; Could Tristán Ulloa play Travis Gant? the man Sarah Connor had a relationship with (this was explored more in early versions of Terminator 2's story and novel)…
The relationship between Sarah Connor and Travis Gant was complex and John described him as the "crazy ex-Green Beret guy". In early drafts of the Terminator 2: Judgment Day script they (Travis Gant and Sarah Connor) would reunite and Sarah Connor would prove that she was not crazy by unloading a gun into the head of Arnold's Terminator, which in retrospect was very similar to the arm cut/reveal to Miles Dyson and had both of these scenes remained in the movie it may have lessened impact of the reveal to Dyson for audiences…
The T-1000 (Robert Patrick) was also meant to turn up to 'Gant's Ranch' and kill Gant, his wife Jolanda and all his men including Enrique Salceda. Obviously this was not in the final film, so technically if the studios and James Cameron wanted to change it, it wouldn't be altering canon of the movies themselves as the script was changed and the scenes were never filmed.
If Tristán is not playing our theory of Travis Gant then he could play an old friend of Enrique Salceda, connected by arms dealing (maybe this is how Sarah Connor gets all these guns, rocket launchers and ammo or Tristán is just playing something else like a plain clothes cop/narcos or a connection to Dani Ramos/family… maybe he could be Dani Ramos' father?
Terminator (2019) remains to be secretive and we think this is the best way to go, yes, some fans might be desperate for more news but the more we get now the less exciting the movie will be when we watch it. Personally we don't want to go into the theater knowing everything before we see it- that would be boring.
Do you think Tristán Ulloa is playing Travis Gant or do you have your own theories of who he could be playing, or do you think this is totally new character?
Let us know in the comments below.