By: TheTerminatorFans.com On September 11th, 2014
The Age Rating/Classification of the next Terminator movie has been of concern to hardcore fans of the franchise for some time. In an industry ruled by money; allowing a movie to be seen by a wider audience seems more financially viable for studios,- sometimes at the expense of fans who have to witness movies being aimed at the wrong audience (much to our dislike) and then pay to view a movie which fails to achieve its potential resulting in a product they don't love.
TheTerminatorFans.com website has continually kept on the R Rated crusade regardless and we will not stop EVER until we get the voices of fans heard!
It is now time for the voices of fans to be heard and for them to ask for one simple thing… Please make Terminator: Genisys Rated R. All comments are from fans, comments on social networks, images and vlogs.
The initial R Rated Promise:
After Terminator Salvation we were concerned that it would be possible a 5th Terminator would be rated PG-13. We took to twitter and sent a tweet to Terminator: Genisys producer Megan Ellison back in 2012.
She responded with the following…
This was while her production company 'Annapurna Pictures' was in control of the project, after she took Annapurna out the picture Skydance Productions and Paramount Pictures took over and the production companies like to make family orientated movies together. Making Rated R movies didn't look like it was on the agenda.
As the rating was never confirmed or clarified after the departure of Annapurna Pictures we could no longer take this promise seriously as concerns were not addressed.
What we hope to achieve:
Genisys has wrapped and is now in post production, if the movie was not filmed with R in mind then sadly we may not get an R but it is still possible for studios to re-shoot scenes and add new dialogue even as long as months after filming wraps.
Terminator: Genisys is part of a trilogy… this means two more movies will come under what we consider; the threat of Age Rating/Classification. Fans need to take the power back and to make their opinion count!
This is not an attack or a boycott on Terminator: Genisys, it is what it is. This is a movement to show that there is a market for R Rated Terminator movies and that we will pay to see them.
We also ask Hollywood to consider R Rating in filming of movies by coordinating filming to adhere to both hardcore fans and the wider audience… TV gets edited, movies toned down for pre-water shed viewing why can't the movie industry do the same for franchises like RoboCop and Terminator and their theatrical releases?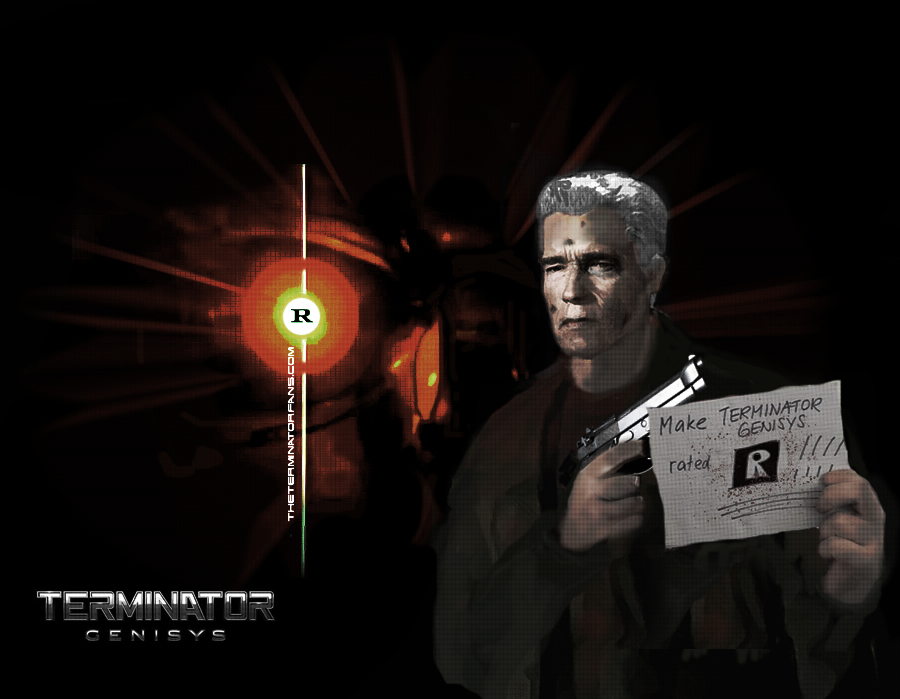 Can I still get involved?
If you feel passionately about this then show Hollywood that you want Terminator: Genisys to be Rated R by continuing the support on social networks, discussion with family or friends and show Skydance and Paramount that it would be financially viable to make this movie the Rated R movie it should be.
You can do one of the following:
Record a vlog (video) of yourself telling Hollywood and TheTerminatorFans.com that you want more R Rated Terminator movies in the future and that you will pay to see them. You can share a view or opinion and you can even get your friends involved with the video. Stand up and be heard and have fun doing it!
Voice video or soundclip. Just link us to it.
Text Video.
A piece of Artwork supporting R Rating and Terminator. Depict a scene of gore, i.e, the T-800 tearing out a heart, the T-1000 impaling somebody with his arm- use your imagination.
Comment on this website page below or send a comment to us on Facebook, Twitter or Google+. We will accept written comment submissions.
Take a picture supporting Terminator Genisys to be Rated R. Example below…
So what are you waiting for… stand up, be counted and be heard, because if you don't you have no right to complain if your soup has been pissed in.
No Fate but what we make for ourselves…
We are the fans, if you're listening to this you are the resistance…