By: TheTerminatorFans.com On August 4th, 2018
As anticipated Arnold Schwarzenegger still has a beard but he also has a new haircut. It looks like the Terminator Genisys grey hair-piece is out the window and we are to get a much more natural haircut for Arnold in Terminator (2019).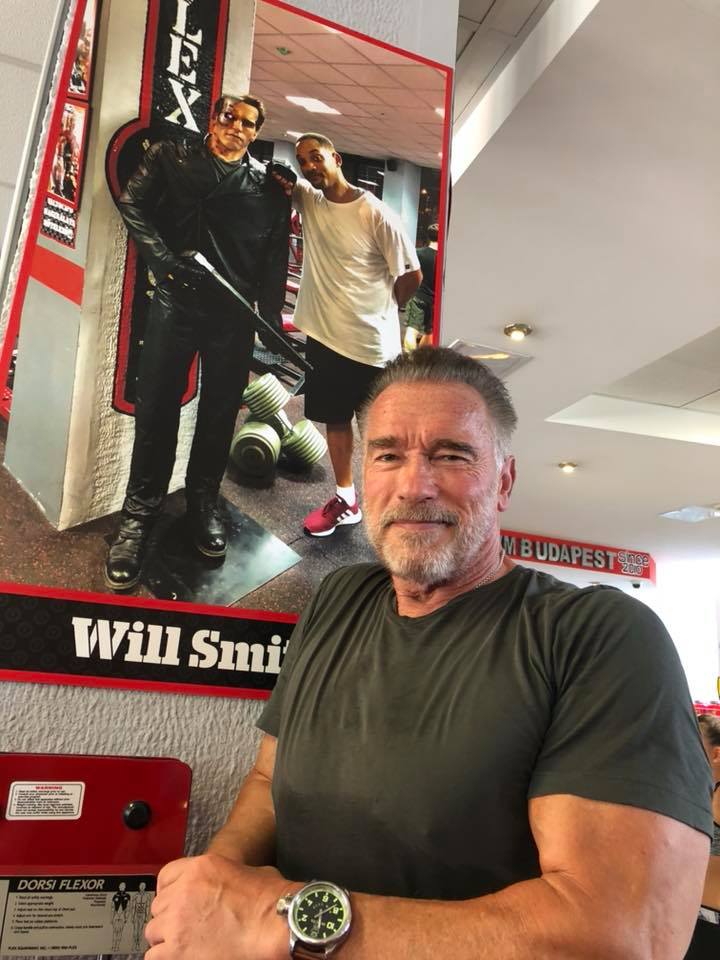 Most people stick with a hairstyle they had at a time that signifies to them that they were at their peak and Arnold did indeed stick with T2 style haircut most of his life but now we are seemingly going for more of a military cut for 'The Terminator'. The new style is short on the sides, which we previously saw made him look more youthful on the movie 'Killing Gunther'. The length/height of Arnolds hair is much shorter than we have seen for a long time and the color tone is a nice dark grey on top, instead of a light grey.
Overall this haircut compliments Arnold, literally shaving years off him and we very much feel that the hair department have done a great job and previously we have complimented Linda Hamilton's new look also with her wicked new 'ready for battle' Sarah Connor hair style.
Arnold is also wearing a classic dark grey Terminator T-Shirt; it is unknown if this is part of his official wardrobe for the movie but he is filming, so this could be a post filming trip to the gym.
Arnold has been training since his arrived in Budapest on his birthday…
While Arnold's role is currently a mystery he will be playing an 'Aged Terminator' machine. It is unknown if he will be a villain or a hero.
This film is very secretive; after fan complaints that the last movie (Terminator Genisys) revealed too much to audiences in marketing and trailers.
Source: