San Francisco Filming Continues on Fifth Terminator Movie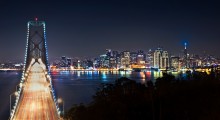 SFGate.com reports on new filming taking place in San Francisco: "From 9 p.m. Monday to 4 a.m. Tuesday, crews will be filming around California Street and Powell Street downtown, using stunt cars and motorized cable cars to create chaotic city scenes, said Lauren Machado of the San Francisco Film Commission. Drivers headed down California… » » »
Tags: Filming, San Francisco, Terminator 2015, terminator 5, Terminator Genesis, Terminator Vista
The Expendables 3 Final Trailer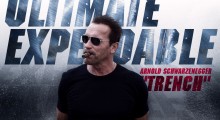 I have only seen the second Expendables movie and that was a blast. Action, action and, hey, more action. Plus the cast did a great job all around. Now we reach the third movie in the series and I am all pumped up for this one. Sylvester Stallone returns as Barney Ross, but I'm… » » »
Tags: EX3, Schwarzenegger, The Expendables 3, Trench
SDCC 2014: Original Terminator Creators to Reboot Terminator in 2018?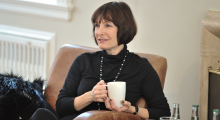 Now this is interesting news. Gale Anne Hurd has ultimate respect on this website and SDCC 2014 revealed a nice interview with the original producer and writer Gale Anne Hurd. Gale Anne Hurd was ultimately responsible for making sure 'The Terminator' got made and made negotiations to make sure Jim Cameron got to direct… » » »
Tags: Creator, Gale Anne Hurd, Producer, terminator franchise, Terminator Reboot, Writer
Happy Birthday, John Connor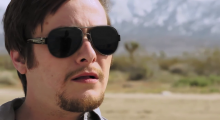 Edward Furlong started his acting career in Terminator 2: Judgment Day as John Connor. His was the most memorable iteration of the man who had been talked about so highly in the first Terminator. Many consider Furlong the ultimate John Connor. He left quite an impression on me and many others which is a… » » »
Tags: Birthday, Edward Furlong
Happy Birthday DN38416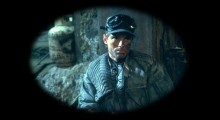 Happy 58th Birthday to badass Michael Biehn, the original (and best) Kyle Reese. Fans always wanted a future war movie with Michael as lead on his mission to travel back to 1984 to save Sarah Connor. This movie never happened. The new reboot replaces all the major cast with younger actors. Something that has… » » »
Tags: Biehniac, Blanc-Biehn Productions, Jennifer Blanc-Biehn, michael biehn, Michael Biehn Actor and Director, Michael Biehn Birthday
Dayo Okeniyi Wraps Terminator Filming as Danny Dyson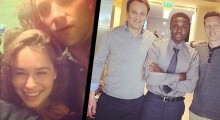 This is interesting. Dayo Okeniyi has finished filming scenes on the new Terminator movie. Dayo Okeniyi: 'Twas a pleasure creating with these #Kings #JasonClarke and #DavidEllison That's a wrap on #DannyDyson over and out. On to the next one. TerminatorGenesis From the look of it this obviously must be inside Oracle Headquarters, which… » » »
Tags: David Ellison, Dayo Okeniyi, Oracle, Schwarzenegger, Terminator, Terminator Genesis
Happy Birthday, The Original Terminator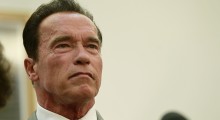 Arnold Schwarzenegger is an action hero. The man just exudes a fearsome presence while on screen. You know when he appears on screen that it will be action-packed with the legend ultimately emerging victorious. His filmography includes the first three Terminator films, the first and best Predator movie, and the original Total Recall movie… » » »
Tags: Birthday, Schwarzenegger, Terminator, Terminator: Genesis (2015), The Terminator Birthday
Sabotage (Ultraviolet) Review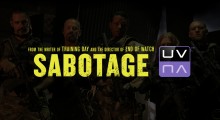 Now I am a woman, but I sure do enjoy a good movie full of explosions and violence every now and again. I became interested in Sabotage due to Arnold Schwarzenegger and Sam Worthington being in it. I admit I was more excited for Worthington since I hadn't heard much from him since Man… » » »
Tags: HD Download, Sabotage (2014), Schwarzenegger, Ultra Violet, Universal Studios Home Entertainment
WIN Sabotage on Blu-Ray in Our R Rated Arnold Contest to be Judged by Peter Kent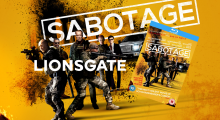 This contest is for our UK users- however USA and rest of the world can enter this contest to win entrance to our next 3 contests and to also win a signed photograph! We have a special guest judge for this contest Peter Kent who was the T-800 stunt man on the first two… » » »
Brad Fiedel Terminator Theme Contest!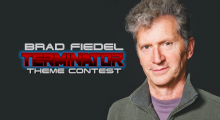 Brad Fiedel is giving you the opportunity to enter a unique contest in celebration of the 30th Anniversary of the Terminator franchise.. The prize? He will compose a movie theme with you as Director and then Brad will release all copyright to you… yes Brad Fiedel will compose a theme for you. What you… » » »
Tags: Brad Fiedel Composer, Soundtracks, Terminator 30th Anniversary, terminator theme