Happy Birthday, The Original Terminator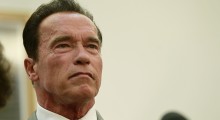 Arnold Schwarzenegger is an action hero. The man just exudes a fearsome presence while on screen. You know when he appears on screen that it will be action-packed with the legend ultimately emerging victorious. His filmography includes the first three Terminator films, the first and best Predator movie, and the original Total Recall movie… » » »
Tags: Birthday, Schwarzenegger, Terminator, Terminator: Genesis (2015), The Terminator Birthday
Sabotage (Ultraviolet) Review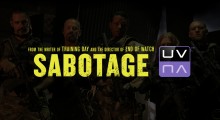 Now I am a woman, but I sure do enjoy a good movie full of explosions and violence every now and again. I became interested in Sabotage due to Arnold Schwarzenegger and Sam Worthington being in it. I admit I was more excited for Worthington since I hadn't heard much from him since Man… » » »
Tags: HD Download, Sabotage (2014), Schwarzenegger, Ultra Violet, Universal Studios Home Entertainment
WIN Sabotage on Blu-Ray in Our R Rated Arnold Contest to be Judged by Peter Kent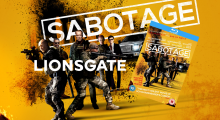 This contest is for our UK users- however USA and rest of the world can enter this contest to win entrance to our next 3 contests and to also win a signed photograph! We have a special guest judge for this contest Peter Kent who was the T-800 stunt man on the first two… » » »
Brad Fiedel Terminator Theme Contest!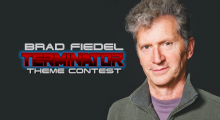 Brad Fiedel is giving you the opportunity to enter a unique contest in celebration of the 30th Anniversary of the Terminator franchise.. The prize? He will compose a movie theme with you as Director and then Brad will release all copyright to you… yes Brad Fiedel will compose a theme for you. What you… » » »
Tags: Brad Fiedel Composer, Soundtracks, Terminator 30th Anniversary, terminator theme
Is Hot Tub Time Machine 2 Like Terminator?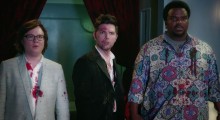 In the Hot Tub Time Machine 2 there's a line about how the plot for this movie "just like Terminator". It's a funny joke, but it's not true. Terminator is about protecting the future via the present (or past, depending if you're a time traveler or not). Another interesting Studio connection is that the… » » »
Tags: Comedy, Rated R, Terminator Reference, Time Machine
Sabotage UK Blu-Ray & DVD Features and Unconfirmed Artwork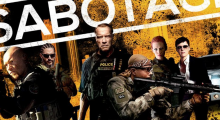 Sabotage will be hitting UK stores on Blu-ray, DVD and digital download on the 15th of September, 2014 The features on both Blu-Ray and DVD are exactly the same. So DVD buyers will not be missing out on anything. A lenticular cover may happen but as now this artwork is unconfirmed but we wanted… » » »
Tags: Lionsgate UK, Sabotage (2014), Schwarzenegger, uk
SDCC 2014 'Mad Max: Fury Road' First Look Trailer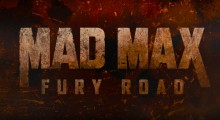 The new 'Terminator' Movie has had no presence at Comic Con and the thunder has been deservedly stolen by Mad Max: Fury Road. This first Look Trailer doesn't sound like the footage that was exactly shown at Comic Con as R-Rated violence and Lizard eating was described. Mad Max is a chase movie and… » » »
Tags: George Miller, Mad Max, Mad Max: Fury Road, Terminator, Tom Hardy
Schwarzenegger Wraps Filming at Cyberdyne Systems Location in 'Terminator' Movie?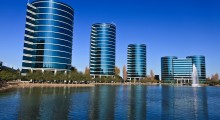 Some of you may have seen set image leaks of Emilia clarke as Sarah Connor. It is now confirmed that filming has been taking place in San Francisco as earlier talked about here. The next and what could be final location for Schwarzenegger's filming is Oracle Headquarters in Redwood Shores… not very far from… » » »
Douglas Smith Cast in Terminator Reboot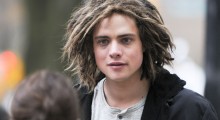 How many of you are a fan of the Percy Jackson movies? Okay, fans of the books, we don't need a rant about how you think they're horrible adaptations. I only mention the Percy Jackson movies here to talk about a new actor being cast in Terminator: Genesis. Douglas Smith, who played Tyson in… » » »
Tags: Casting, Terminator, terminator 5, Terminator: Genesis (2015)
SDCC 2014 NECA Announce RoboCop Vs Terminator Video Game Figures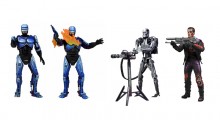 You may be familiar with NECA and their line of figures based on classic retro games like 'A Nightmare on Elm Street', 'Friday the 13th' and even 'RoboCop'. NECA are now proudly doing a 16-bit paint shade style on RoboCop Vs Terminator. It will feature Video Game box art style packaging. It is unknown… » » »
Tags: Figure Accessories, NECA Figures, Orion, RoboCop Vs Terminator, Video Game