NECA Liquid Nitrogen T-1000 Figure Review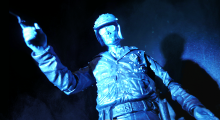 Movie Replicas Direct kindly sent us a a liquid nitrogen T-1000 to take a look at. NECA's Liquid Nitrogen T-1000 Figure is part of the Terminator Collection – 7″ Series 3 wave . The figure was made for the 20th Anniversary of Terminator 2: Judgment Day and comes with special paint effect that makes… » » »
Tags: Collectibles, Figures, neca, NECA Figures, Robert Patrick, T-1000, T2, terminator 2 figures, Terminator Product Review, Toys
Orion Pictures is Back!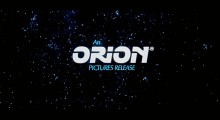 Orion Pictures has risen from the ashes and on the quiet MGM has revived the company brand. Orion Pictures was responsible for distributing the first Terminator movie (The Terminator) and also distributing the first RoboCop movie. Orion hold a place in many Terminator Fans hearts. Orion Pictures was originally formed in 1978 and… » » »
Tags: David Ellison, Distribution, Gale Anne Hurd, james cameron, megan ellison, Orion Pictures, Rated R, Robocop, Studios, the terminator
Sabotage DVD Review (UK)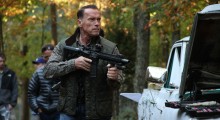 Sabotage was released on Monday the 15th of September. Our UK Schwarzenegger Fans can now own the movie on either Blu-Ray or DVD. We were sent a copy of the movie to take a look at and the DVD release does not disappoint. The USA got a 3 combo pack comprising of a Blu-Ray… » » »
Tags: DVD, Lionsgate UK, Review, Sabotage, Schwarzenegger
Time Displacement Device to Feature in Terminator: Genisys?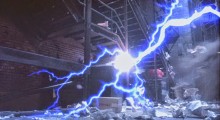 Back in April 2014 we ran an article of predictions of what Terminator: Genisys's plot could entail. One of the things we mentioned/predicted was a Time Displacement Device (TDD) that would allow time travel to take place even in the past. TheTerminatorFans.com April prediction (in bold): "Casting news has revealed that "Sandrine Holt will… » » »
Tags: Naked Time Travel, Terminator Genisys, time displacement chamber, Time Displacement Device, Time Displacement Equipment, Time Travel
Terminator: Genisys Trailer to be Attached to Interstellar?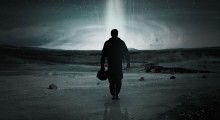 We ran this rumor back when we reported about HBO's upcoming Westworld TV series but it seems to have had no mention anywhere else. TheTerminatorFans.com previously reported: "Jonathan Nolan co-wrote, also will exec-produce and will direct. Jonathan Nolan wrote screenplays for 'The Dark Knight' and 'The Dark Knight Rises' and he is the writer… » » »
Tags: Age Classification, Interstellar, Rated R, Teaser Trailer, Terminator: Genisys Trailers, Trailer, Westworld
Exclusive: Make Terminator: Genisys Rated R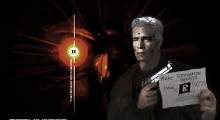 The Age Rating/Classification of the next Terminator movie has been of concern to hardcore fans of the franchise for some time. In an industry ruled by money; allowing a movie to be seen by a wider audience seems more financially viable for studios,- sometimes at the expense of fans who have to witness movies… » » »
Tags: Age Classification, Age Rating, Comedy, Fans, PG-13, Rated R, Schwarzenegger, terminator 5, Terminator Genisys
The Best Terminator Games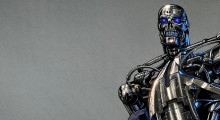 We all very familiar with the Terminator movie series which launched the career of Arnold Schwarzenegger and caused millions of us to try our own version of Arnie's accent and one-liners at home. It's thanks to the success of these movies that spin-off games were cranked out in the multitude, so much so that… » » »
Tags: Home Consoles, Terminator Video Games, The Terminator 1984 Video Game
Terminator Reboot Trilogy Sequels Given Release Dates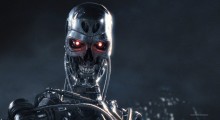 We knew Terminator: Genisys would be the start of a new trilogy but Paramount have announced the release dates of "Terminator 2″ and "Terminator 3″. This seems to be jumping the gun a little as we haven't even had one official still from the movie or a teaser trailer. Deadline.com reports: "The studio today… » » »
Rumored Terminator: Genisys Audio Segment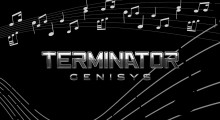 I'm not a big music person and it takes an extremely well done soundtrack to make me listen. However, when I heard of this rumor I was excited as I could get a small glimpse into the future Terminator movie. Music has a very important place in a movie as it can heighten scenes… » » »
Tags: Music, Soundtrack, Terminator Genisys
Jai Courtney's Diet and Naked Kyle Reese Scenes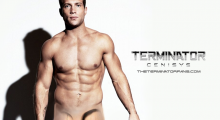 Jai Courtney (who will be playing Kyle Reese in Terminator: Genisys) is taking his duties as the father of John Connor seriously. He took beer and carbs out of his diet to get fit for his role in the upcoming Terminator reboot. Actors and actresses losing a lot of weight in order to fully… » » »
Tags: Diet, Fitness, Jai Courtney, Nudity, Physical Training, terminator 5, Terminator Genisys