By: TheTerminatorFans.com On August 1st, 2018
So, the first official Terminator (2019) image hit the internet and the hatred is immense. Let's take a look at the offending picture…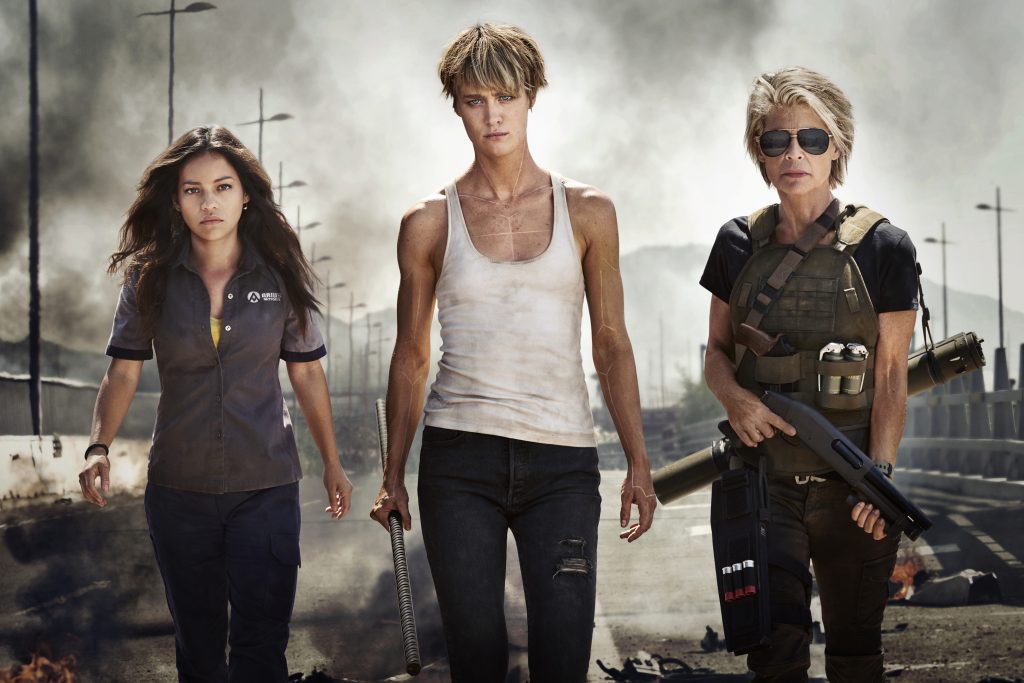 It appears that there is not enough dick in this picture to satisfy many angry fans, with the weaponizing of anti-feminist terms like the portmanteau of Feminazi (the definition of which was popularised by Mr. Rush Limbaugh in 1992, as a way of subduing women's rights) and SJW (Social Justice Warrior, which came into existence in 2011) to name but a few. We know that the last time people really had Terminator outrage was when Arnold Schwarzenegger's T-800 had no penis in a leak we did around Terminator Genisys; showing the Terminator without genitals. Men were outraged across the internet…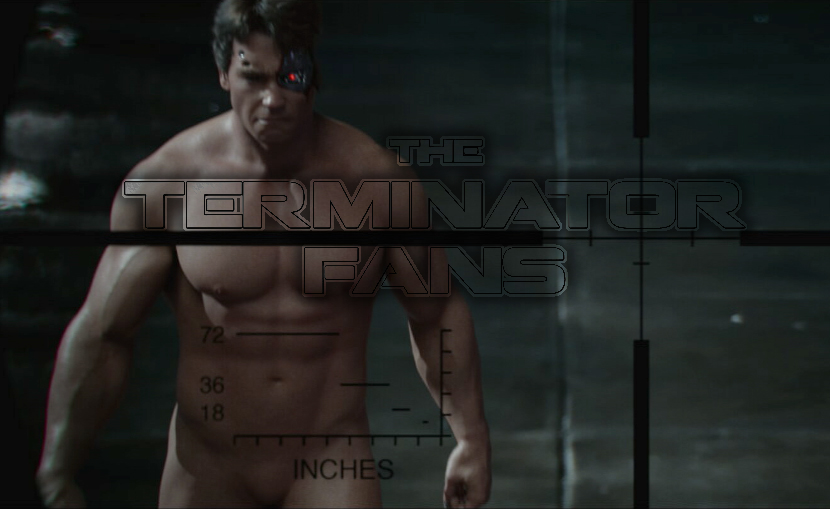 Now guys we are not judging your sexuality but we fail to see how all this attacking and rage over an introduction picture to the female members of the new Terminator movie's cast is really rubbing you the wrong way. Maybe you haven't been following this movie but let's get some things right here…
The TERMINATOR (2019) Movie is Written by MEN… and only MEN
Yes, not one woman was on the writing team,- so if this movie mishandles feminism and its reputation you are gonna have to blame your own sex…. not women.
TERMINATOR (2019) Has MALE Cast Members!
What? There are men in this movie? Yes, there are men in this movie and they all have dicks so don't worry! We have Gabriel Luna as a Terminator, Diego Boneta (as yet undisclosed character) and a ton of supporting male cast members that outweigh female supporting cast members.
Also…
Arnold Schwarzenegger is in the Movie
There's a ton of people that are really butt-hurt by the lack of Arnold but he only arrived to film on his birthday 2 days ago… you know he had heart surgery recently and has joined the shoot later while the film has been shooting a couple of months already. Many people are acting like Arnold isn't in this film and that there are no men in the movie.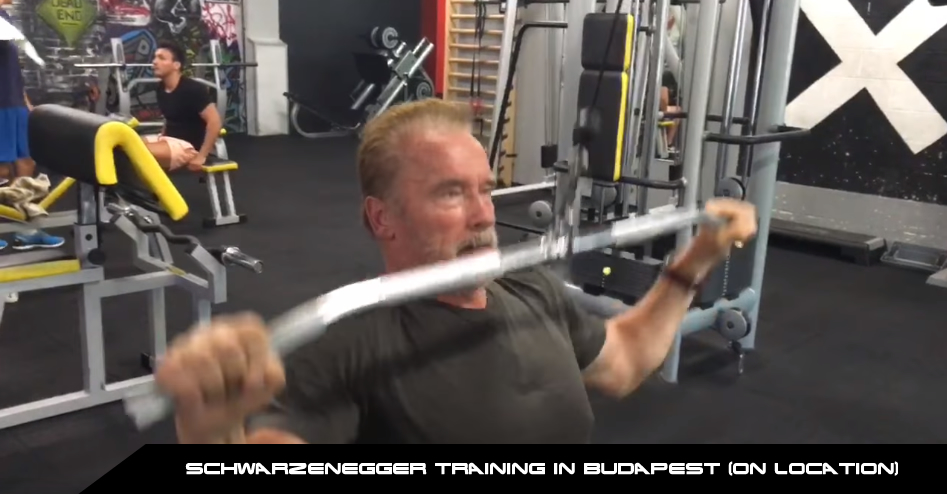 People Following the Movie Should Understand What is Going on
We are living in an age of bandwagon social media commenting and Vlogging… many people who don't know what they fuck they are talking about want to weigh in on anything and everything… some of you are misguided, some of you have an opinion and some of you want to make money off your Youtube videos… we get it but if you had followed this movie from the start you should understand who is in the movie, why Arnold has not got official photos yet and why the movie is being kept as secret as possible after the last movie (Genisys) revealed too much and ruined surprises in the movie.
Attacking Linda Hamilton, Mackenzie Davis and Natalia Reyes…
Really? When Linda Hamilton's leaked set photos were revealed the internet poured forth with love, stick her in a picture with two other women and the world goes crazy and the hate fest begins. We are witnessing disgusting things being said about all three of these actresses and it is disrespectful and childish. Like we said before; if you were a fan and you had been following the news you know who they are or loosely how the fit in to this movie. If you care to find out- go back through our content and you can find out everything you need to know.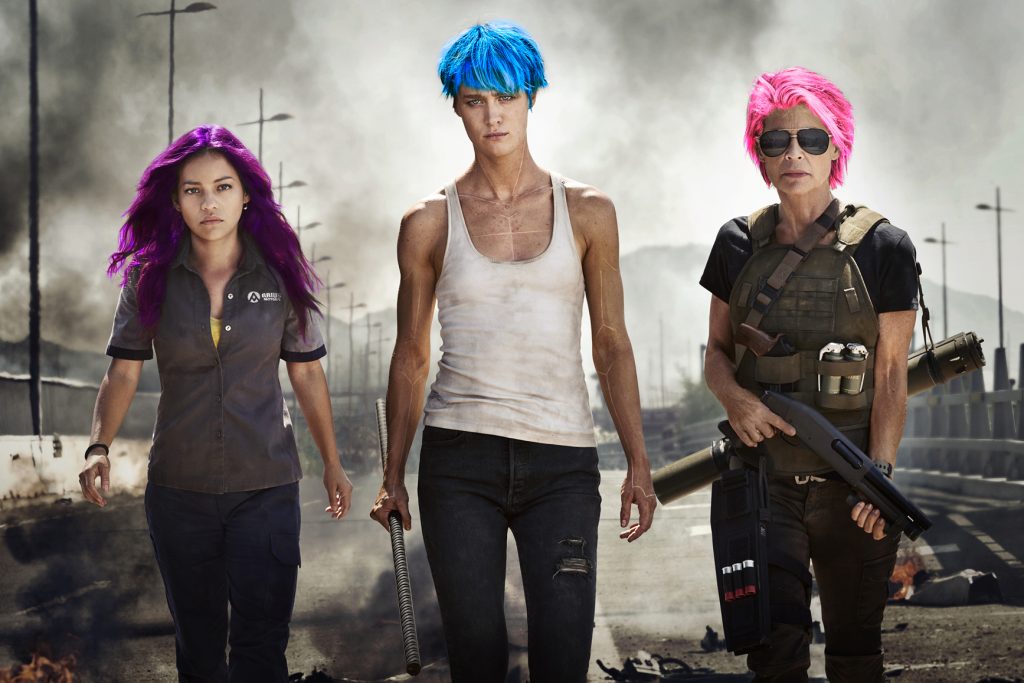 Don't Blame The Actresses
They are doing their jobs, they didn't construct this movie and we don't know enough about the movie to be jumping into firing squad mode like most are doing, so chill out dick-wads.
Terminator Has Always Had Feminism
It feels like some of you have never seen the first two Terminator movies… go back and see the evolution of Sarah Connor (Linda Hamilton). Terminator was always her story, just because Sarah Connor isn't the title character doesn't mean the first two movies were not always about her, we are hopefully reconnecting with what mattered so we have some high hopes here.
James Cameron Chose/Approved the Cast
Yes, another man approved the cast of this movie and gave his personal thumbs up to the story (even contributing to it), the characters and the actors hired. Mr. Cameron has always shown strong females in his movies… so what is the problem all of a sudden?
Paul Feig Started All of This Shit
Let's blame the real problem here; Paul Feig and his conspiracy with Sony to capitalise on a ruthless marketing strategy to pit opposite sexes against each other and cause conflict and controversy to boost ticket sales with Ghostbusters. This is a man who pretended to have a vagina to berate the internet whilst giving us female characters that were supposedly "diverse"… then preceded to undermine his so-called altruistic faux-feminism with cliched one dimensional female stereotypes which completely contradicted his entire BS movie.
In a Hollywood climate where movies got poorer in quality and ticket sales were down; it was highly profitable to start this horrid trend and hopefully this new Terminator movie isn't going to do that but James Cameron did try it out with his Wonder Woman snipes at the director Patty Jenkins and Gal Gaddot in order to raise profile on the release of Terminator 2: Judgment Day in 3D. Hopefully Mr. Cameron saw that wasn't working and won't continue on with such tripe, yes, he did attack superheroes after that but each to their own (superheroes aren't our thing either) but we did think Wonder Woman was pretty good for a super hero movie.
Back to the subject… FUCK PAUL FEIG and his faux-feminism.
Hollywood Listened to the Fans
TheTerminatorFans.com and many of our users banded together to say we wanted a Terminator 2: Judgment Day sequel starring Linda Hamilton and Arnold Schwarzenegger, with James Cameron involved in some capacity,- instead of a Terminator Genisys sequel. The majority of our prayers were answered and Skydance and Paramount struck a deal with 20th Century Fox to allow James Cameron to come on board; James Cameron then asked Linda to be involved and the rest is history (Arnold was attached from the beginning).
We got what we asked for, so why are people complaining?
Terminator Has Diversity
The new Terminator has an interesting cast, we have Latino actors, American actors and even an Austrian actor (yes, there is a bona fide Austrian in this movie). The movie will be set in Mexico and the United States and this is different enough at this stage to have us interested again.
So, for now, can we stop the hate, shut the fuck up and just see how this unfolds and give this new Terminator movie a chance? No one even got this angry about those Entertainment Weekly Terminator Genisys photos…
Is the new Terminator First Look official photo as bad as those EW photos? We don't think so… and you had plenty of testosterone and dick (obviously not on full display) in those!