September 1st, 2012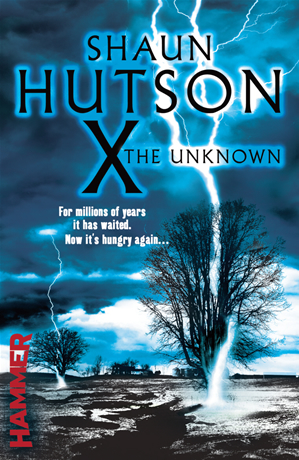 Author:
Shaun Hutson
Publication Date:
05.07.2012
Pages:
368
Publisher:
Hammer
Plot Synopsis:
"In a quiet field in Buckinghamshire, a huge crack has appeared in the earth's surface. And people are dying. Incinerated beyond recognition. At the same time, hospitals have noticed an increase in catastrophic deformities in foetuses, and cancer levels soaring.
Dr Adam Royston, a scientist working at the nearby military base, thinks he knows what it is; a creature as old as the earth that slumbers for centuries, then wakes to feed on the energy and radiation produced by humans. But if he's right, and they can't find a way to destroy the creature roaming the countryside, then it's not just Buckinghamshire that could be in danger, but the whole world."
Review:
Swapping the Lochmouth area of Scotland for Buckinghamshire, England; Shaun Hutson transports one of Hammer Horror's legendary tales to present day, infusing it with modern day technologies whilst maintaining the cult Hammer atmospherics.
This novelization manages to breathe fresh life into a classic without diminishing any of the original charm of the 1956 movie. Deftly written and visually sketched; Mr. Hutson pays great attention to detail as he sets about coaxing a dangerous molten monster from the very depths of the earth to bring chaos and death to a quiet English county.
You'll find yourself immersed in the lives of every person involved- feeling each horrific event with the visceral energy and gusto so characteristic of a Hutson novel but with all the hallmarks of Hammer horror at its best. Hardcore fans of the original movie may find this reworking of a favorite slightly jarring in its differences but if you're willing to go in with an open mind then the road ahead shouldn't be a disappointing one.
This novel is a nice solid read filled to the brim with blisters, melting skin, blood and terrifying nightmares which will mercilessly introduce new fans to the legendary Hammer Horror experience.
Summary:
Enjoyable read and definitely worth a gander!

Buy X the Unknown on Amazon.com
Buy X The Unknown for Kindle on Amazon.com
Related Posts via Categories
Categories: Authors • Books • Shaun Hutson