By: TheTerminatorFans.com On January 23rd, 2013
Arnold Schwarzenegger when speaking to The Sun Newspaper revealed that the new writers of Terminator 5 Laeta Kalogridis and Patrick Lussier actually replaced the original writers who were never named in one of our previous new stories way back in October 2012 in which Arnold stated the script was being worked on and production would start within the year.
The old writers (still unamed) were obviously sacked for not going in the "right direction".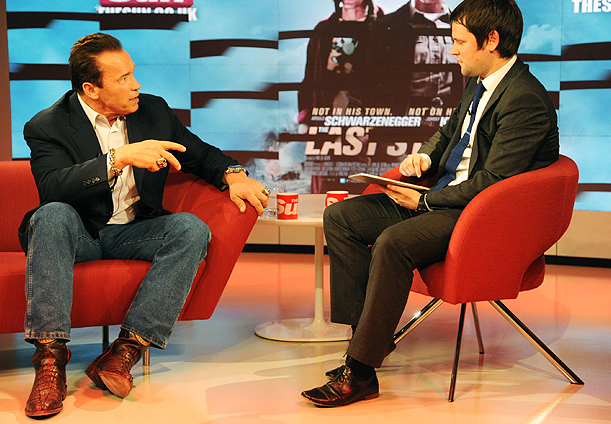 He revealed that writing has now begun on the project, and that he is pleased with the direction of the film so far, having not been too fond of the original concept.
"They're writing right now Terminator 5," he told The Sun. "There have been some writers on it for the last year-and-a-half and they could not pull it off.

"We have told them over and over that they are going in the wrong direction, now they've finally got rid of those writers and they've got new really quality writers.

"Now they're going in the right direction. I think this year the script will be finished and we will be able to go into pre-production."
What is the right direction anymore? All we know is comedy and light family entertainment is the wrong direction and we hope this next movie is not a repeat of previous failures.
So there you have it. We always classed a script being in the works as a form of pre-production but obviously what pre-production truly means is the artists get to work, the people get hired and then the movies on the way to be getting made. So Terminator 5 is now in action mode. We just hope it turns out to be a science fiction masterpiece and not another average summer action movie.