September 30th, 2012
NECA have been teasing collectors with these figures for some time and on December the 31st 2012 they will be in stock. So finally you will be able to own the highly anticipated NECA: Terminator Collection Series 3.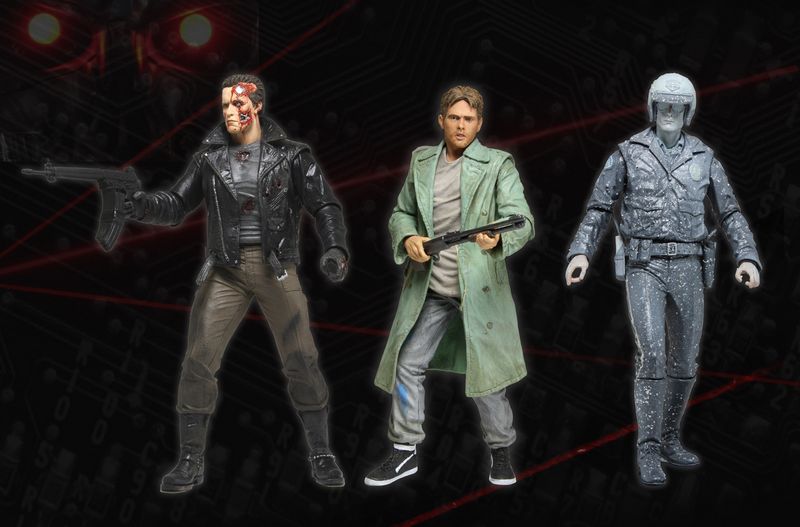 The reason this release is special is because 2 of the 3 figures are from 'TheTerminator (1984)'  including T-800 (with Schwarzenegger likeness) and Kyle Reese (with Biehn likeness). The other figure is of course the liquid Nitrogen T-1000 from 'Terminator 2: Judgment Day (1991)' (with Robert Patrick likeness).
Official Product Description:
The third collection in the popular Terminator series brings the first ever action figure of Kyle Reese, a fan-favorite, highly requested for years now – the freedom fighter is based on his 1984 look in the original Terminator and comes complete with shotgun and photo of Sarah Connor.
Also included in this series is the T-800 (Tanker Truck Pursuit) featuring interchangeable heads and his battle damaged look from the final scenes in The Terminator and the T-1000 (Liquid Nitrogen) featuring special deco and paint effects to re-create his frozen state in the steel mill scene from Terminator 2: Judgment Day.
Figures stand 7″ tall and are fully poseable and highly detailed. Clamshell packaging.
BUY THE FULL SET (T-800, Kyle Reese & T-1000)
BUY TANKER TRUCK PURSUIT T-800
Related Posts via Categories
Categories: Arnold Schwarzenegger • Collectibles • Kyle Reese • Michael Biehn • NECA • Robert Patrick • T-1000 • T-800 • Terminator 2: Judgment Day (1991) • The Terminator (1984)