Synopsis:
| | |
| --- | --- |
| | In the Year of Darkness, 2029, the rulers of this planet devised the ultimate plan. They would reshape the Future by changing the Past. The plan required something that felt no pity. No pain. No fear. Something unstoppable. They created 'THE TERMINATOR'.A Cyborg has been sent from the future on a deadly mission, it has been programmed to kill a young woman named Sarah Connor.Sarah has no idea that her life will have a staggering effect on the fate of mankind and that she is in danger of being killed at the hands of an inescapable machine known as the Terminator. Kyle Reese has also been sent from the future, but his mission is to protect the unknowing mother of a future leader.Is there any way to stop the death of an innocent when the relentless Cyborg is set on his course |
The Terminator DVD Review:

"Listen and understand. The Terminator is out there. It cannot be bargained with. It cannot be reasoned with. It does not feel pity or remorse or fear. And it absolutely will not stop- ever! Until you are dead."
Most people are fans of the Terminator. Who wouldn't be? It has a little something for every viewer. For the blokes it's the edge of your seat- white knuckled- joy ride filled with explosions, car chases and shootouts. For the more genteel viewer it's the age old story of love and sacrifice- one man travelling back in time to save the life of the woman he loves. The plot is pretty simple; a Cyborg is sent back through time to exterminate the mother of his greatest enemy. Thus preventing the birth of a resistance that would bring about a future found undesirable by the machines. But the machine's enemy sends a protector back to rescue his mother, initiating a race against time to see who will get to her first. All in all a great film- end of. This isn't the first time the Terminator has been released on DVD, as a movie only disc from Image Entertainment. But now MGM has decided to release a fully loaded special edition. And this disc will blow you away motherf*cker. I'm not saying it's perfect, by no means, but I have to say it may be the perfect DVD for this film.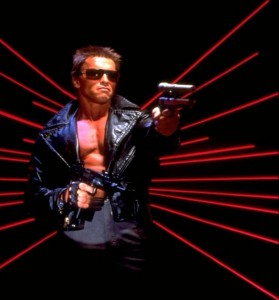 Firstly, the video quality is superb, though the Terminator was made on a very low budget, B-grade Sci-Fi flick, thrown out by some wide-eyed wannabes with a fistful of hope, a head full of dreams and the tentative backing of some money men, even then only giving T1 a budget of 6 million dollars, with sequels T2 (92 million) and T3 (200 million) dollar budgets. Innovative ideas and tremendous imagination went into this film and you can see it in every scene, hear it in every line. But the Terminator was never the most technically or aesthetically advanced film ever made. Though somehow with this new super deluxe Hi-Def transfer, MGM has managed to fix most of the problems nicely. Effectively making it look as though it could have been produced in an indy studio yesterday. There are no unwanted relics, or even a hint of edginess to be seen in this anamorphic widescreen transfer. The trademark cold blue hues of Cameron's lighting are in full mouth-watering force and beautiful to the eye. The Terminator has never looked this good, and I truly mean that. I doubt even the original print of this film could match up. The sound is also of notable improvement. Well, that is to say the Dolby Digital 5.1 EX track is pretty smooth. Based on comments made by disc producer Van Ling, at the DVD panel at the San Diego Comic-Con, Brad Fiedel went back into the studio and re-orchestrated some of the track for the new mix. For the most part the sound track is rather vibrant. It doesn't have as much of a kick to it as it could do, but the sounds are spatial and scattered which plays nicely in the surrounds. It manages to maintain the character of the original whilst breathing fresh air into a classic track.

A film like the Terminator has to have history and thankfully, this DVD presents it to the viewer like a buffet for the faithful with a veritable Aladdin's cave of extras for your money. This is the first DVD which incorporates DVD 14,- a single layer of information on one side and an RSDL dual layer (script-to-screen feature) plus a handful of Easter eggs. They're easy to find, just look for small squares dotting the menu screens and try to highlight them. The eggs are short interview clips saved from the death sentence known as the cutting-room floor. There are seven deleted scenes included here in surprising quality, which won't necessarily add anything to your viewing experience, but they're significant because they feature an optional commentary by James Cameron- a first for any writer/director. All of this will have you enthralled and when you eventually finish with that you can wrap it up by reading Cameron's original story treatment for the film, it shows that he had a firm grasp on the progress of the story from the very beginning. The Terminator is a must have for any DVD library. For fans of the film There's a lot of nutritional value here- plenty to get your teeth into. The overall quality of both sound and video is great and as a lone metal assassin once said: "I'll be back" How right he was.
Trivia:
O.J Simpson was considered for the role of the Terminator, but the producers feared he was too "nice" to be taken seriously as a cold-blooded killer.
Michael Biehn's character Kyle Reese gets bitten on the hand by another character, which has happened to him in every James Cameron film he's been in: Aliens, and the Abyss.
Shots through the Terminator's vision shows a dump of the ROM assembler code for the Apple II operational system.If you happen to own an Apple II, try entering the prompt: ] call -151 * p This should give you the Terminator view.
Arnold Schwarzenegger speaks only 17 sentences in the film.
The initial draft of the film was sold to Cameron's wife Gale Anne Hurd for the sum of $1 (cup of coffee).
Wolfie, James Cameron's German Sheperd dog can be seen at the Tiki Motel.
The beiginning of production was postponed for nine months due to Arnold's commitment to Conan the Destroyer, during this time Cameron wanted to be working but had no time to take on a whole new film so he started a writing assignment which turned out to be: Aliens.
Near the beginning of the film Sarah Connor gets a message on her answering machine telling her that her date has been postponed, the voice is Cameron's.
Arnold Schwarzenegger's famous line "I'll be back" was actually intended to be "I'll come back". It was reported in late 2012 that Arnold and director Jim Cameron had an argument about what line should be delivered on set… even to go as far as filming different lines as a compromise at the time.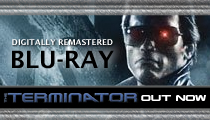 Info:
Directed by James Cameron
Produced by Gale Anne Hurd
Written by James Cameron
Gale Anne Hurd
William Wisher, Jr.
Music by Brad Fiedel
Cinematography Adam Greenberg
Editing by Mark Goldblatt
Studio Hemdale Film Corporation
Pacific Western Productions
Distributed by Orion Pictures
Release date(s) October 26, 1984 (1984-10-26)
Running time 108 minutes
Language English
Budget US$6.5 million
Gross revenue $78,371,200
Cast:
Arnold Schwarzenegger: The Terminator, Michael Biehn: Kyle Reese, Linda Hamilton: Sarah Connor, Paul Winfield Lieutenant Ed Traxler, Lance Henriksen: Detective Hal Vukovich, Bess Motta: Ginger Ventura, Earl Boen: Dr Peter Silberman, Rick Rossovich: Matt Buchanan, Dick Miller: Pawnshop Clerk, Shawn Schepps: Nancy, Bruce M. Kerner: Desk Sergeant, Franco Columbu: Future War Terminator, Bill Paxton: Punk Leader, Brad Rearden: Punk, Brian Thompson: Punk